Clever horse hilariously 'photobombs' little girl (video)
It is disheartening when one someone photobombs a perfect shot; however, a clever horse won hearts for his antics.
WKMG News 6 reported that the photo was uploaded by a user on Reddit where it spread like wildfire.
Photobombing – whether intentional or not – could be said to spoil a perfect moment. However, when the 'photobomber' is adorable it only results in it going viral on social media.
Read more on our Twitter account @amomama_usa.
Something similar happened when a little girl saw horses on the street. She requested her parents to click a photo of her posing with her favorite animal. 
The parents may have imagined a nice photo they could put on their wall. When they looked at the image later, they saw that the horse had done something quite hilarious.
It had photobombed the picture and they had a potential viral photo with them. The presenters said that the origin of the photo was unknown. It was first posted on Reddit where it spread like wildfire. 
Horse photobombs girlhttps://t.co/0hL8IuYHEq pic.twitter.com/g6y8yS2rBi

— The Poke (@ThePoke) January 14, 2016
The hilarious photo seems to have been captured at a parade when the little girl was in awe of the magnificent Clydesdale horses marching through town.
According to AWM, the girl, wearing a Disney-themed t-shirt, loved the animal and wanted to click a photo as soon as she saw them.
She went as close as possible for the photo to be clicked with both the girl and the horse in the frame. As the adults were clicking the photo, the horse did something completely unexpected.
It turned his head at a 45-degree angle and had a grin on her face making it one of the best-photobombed images of the year.
In fact, the horse "smile" is called the Flehmen response. A horse curls its lips to help "the transfer of pheromones and other scents into the vomeronasal organ" located above the roof of its mouth with exits present just behind the front teeth, according to Wikipedia.
However, nobody seems to really take that into consideration as the photo is adorable. BuzzFeed named the photo the best photobomb of 2016.
The Wolf 101.5 FM had shared the photo on their Facebook page to pique the interest of their listeners. Many shared their thoughts on the photo with one user saying that the photo was cute and it proved what handlers call some horses – "cheesy."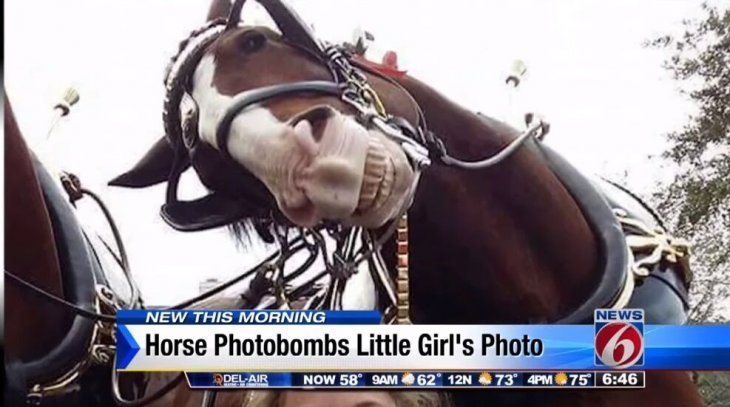 Another user, Judith Goode, said that the snap was hilarious in which the horse was certainly "enjoying the moment and smiles for the camera."
Clydesdale horses love being around people and have a tender personality according to PetMD. However, they are hard workers who are also considered to be intelligent.
The heavy horses have strong muscular legs and feet, long pasterns, rounded hooves, and powerful joints. The other features include large ears, long neck, sloped shoulders, and a short back.