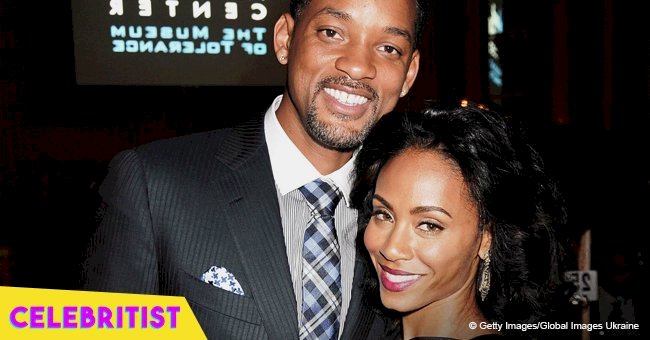 Will Smith shares adorable video of family safari vacation on Jada's birthday

On more than one occasion, the Smiths get called "family goals," and in this video shared by legendary actor Will Smith, they continue to show us why. Will also recently did some quick math about his relationship with Jada.
Jada Pinkett-Smith turned 47 on September 18, and her brood made it an exceptional day. Jaden, her son, found a Safari in L.A. and Will took to Instagram with a video receipt of all the fun they had. The "Winter's Tale" actor started off the clip somewhat expressing surprise at Jaden's discovery.
We can see the family feeding wild animals like the Giraffe. At some point, it looks like Jada's being careful not to get too close.
"Happy birthday, mom," Jaden says, and Jada presses a kiss to his cheek. Towards the end of the video, the mother-son duo shares a hug as Jaden towers above Jada.
On her big day, Will shared a heartwarming tribute to his wife. Choosing a photo where they napped side by side on luxury plane seats, the "Men In Black" star wrote:
"Wow... 24 Birthdays together! Happy Bday, My Queen. Let's Go Get 24 more."
Last month, Will had gone down memory lane to reflect on his relationship with Jada and do some math to put things in perspective. "I just realized... This year we've been together more than HALF OUR LIVES! @jadapinkettsmith," he wrote alongside a cute selfie of the two.
Will and Jada have been married since 1997, and their marriage continues to stand the test of time. It looks like that will always be the case too, because, in June, Jada told us divorce isn't a word in the Smiths' dictionary. She stressed:
"Here's the thing about Will and I, it's like, we are family, that's never going down! It's just not! Ever!"
WILL AND JADA ARE NOT "MARRIED ANYMORE"
Will said the same thing in different words during a guest appearance. "[We] don't even say we're married anymore," Will revealed before going on to explain what he meant:
"We refer to ourselves as life partners, where you get into that space where you realize you are literally with somebody for the rest of your life. There's no deal breakers. There's nothing she could do — ever. Nothing [...] would break our relationship. She has my support till death and it feels so good to get to that space."
It appears Will and Jada have told us what to do when next we hear those unrelenting divorce rumors about them.
Please fill in your e-mail so we can share with you our top stories!