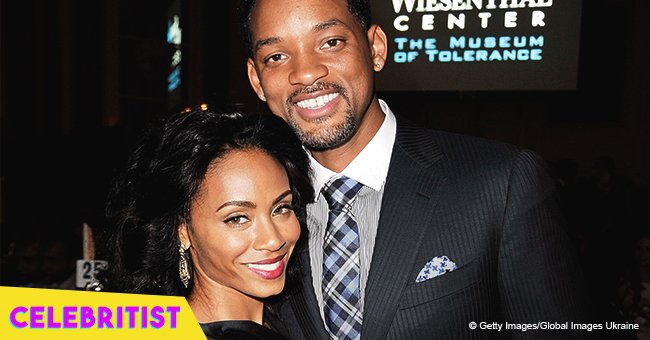 Will Smith shares picture with wife Jada in celebration of huge milestone in their relationship
While some people might not realize it, Will and Jada Pinkett Smith have actually been together for quite a long time. Now that they are celebrating another milestone in their relationship, Will made sure to post an adorable photo of him and his wife on Instagram.
It's been 20 years since the Smiths exchanged vows in a surprise wedding on New Year's Eve, and even Will himself couldn't believe it.
Last Wednesday, the lovely couple and their two children enjoyed a well-deserved family vacation. While they made sure to take some time off of their busy schedules for some quality time, Will felt the need to share a fascinating thing about his relationship with Jada online.
"I just realized… This year we've been together more than half our Lives!"
Last month, Smith opened up about his strong relationship with his wife on Tidal's Rap Radar podcast, where he revealed that he sees their relationship as more than just a marriage.
"We don't even say we're married anymore. We refer to ourselves as life partners. Where you get into a space where you realize you are literally with somebody for the rest of your life. There's no deal breakers."
Will shares how he is currently living his best life, and that he has never been happier.
"There's nothing she could do — ever. Nothing that would break our relationship. She has my support till death, you know what I mean and it feels so good to get to that space where you're not complaining, and worry, and demanding that a person be a certain thing."
Likewise, while Pinkett-Smith was on Sway in the Morning prior to Father's Day 2018, she shared how she and her husband are never getting a divorce - ever!
In a sweet and heartwarming interview, she says that because she and Will are family, it's just never going down.
"Because we are family — take out all that whole marriage, relationship, crap — at the end of the day, Will and I are family, I'm going to hold him down. [...] At the end of the day, that's a man that can rely on me for the rest of his life, period."
The couple first began dating in the mid-'90s, while the "Fresh Prince of Bel Air" star was finalizing his divorce from ex-wife Sheree Zampino. However, Jada shares that dating Will at the time was not something that she was particularly proud of. During one of the episodes of her Red Table Talk Facebook Live show, she recalled how she started dating Will while his marriage to Sheree was ending.
However, after all these years of being together, the bond between Will and Jada is unbreakable, and nothing in the world will ever change that.
Please fill in your e-mail so we can share with you our top stories!