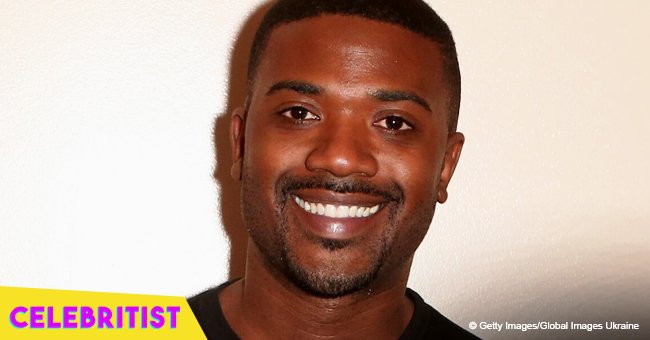 Ray J holds baby daughter as she rocks her curly hair with white bow & purple tracksuit in pic
Ray J's 3-months-old daughter, Melody, is melting hearts all over social media with her bright smile and quick development. Melody's mom, Princess Love, thinks she has a genius baby on her hands, and fans are utterly charmed by the idea.
Ray J is proving that for a first-time father, he's been handling life pretty well after the birth of his adorable daughter back in June. The musician and tech entrepreneur was captured taking care of his business while on daddy duty in a recent pic shared to his Instagram account.
In the adorable pic, Ray J is checking something on his phone with a serious look on his face while his baby is sitting on his lap. Melody easily stole the spotlight with her adorable smile and excited expression. The looked like a little fashionista rocking a white t-shirt with a purple jacket and matching pants, and she completed the look with a pair of colored socks and a white bow adorning her thick curly hair.
"Closing @rayconglobal deals with my sidekick @melodylovenorwood," Ray J captioned the photo.
The "Love & Hip Hop: Atlanta" star received an overwhelming outpour of love from fans on his comment section, most of them praising little Melody and stating how beautiful and happy is the girl.
"She is so beautiful, and she looks like a baby doll on this pic," wrote one fan, and another added "I'm obsessed with Melody. She can't be this cute; I'm in love lol."
A GENIUS BABY
Like Ray J, his wife Princess Love has been filling her Instagram account with cute pics and videos of Melody. The reality star loves to share with fans the developments she sees in her daughter, and according to a clip she took of the babbling baby, Melody seems to have said her first words already.
"Am I trippin or did she just say I Love You? #MelodyLove #2months," asked the model on Instagram. Fans seem to agree with her, as most of them heard Melody saying the words. Followers are encouraging Princess to encourage her daughter's intelligence with more challenges, as they believe she has a genius baby and Melody could have a lot of potentials.
The 3-months-old baby girl enjoys a good book, and she's already learning how to spell her name so that, by the time she learns how to walk, she'll be familiar with it.
TOO MUCH PHOTOSHOP
Another pic of the Norwood family that has been sparking some critics among netizens was shared by the happy couple on their respective Instagram accounts and is the first official photoshoot of the trio.
The "blood love" inspired photo shoot has Ray J, Princess and Melody posing together in front of a red backdrop, with the proud parents wearing clothes of the same color and baby Melody wearing just her diaper.
Although the photo is beautiful as it portrays a happy family, fans always find something to critic, and this time it was the "heavy photoshop" of the portrait. "Princess' face looks too fake in this pic compare to Rayj and Melody's naturalness," wrote one fan, and another added, "Y'all went heavy on the photoshop, but Y'all made a beautiful baby girl! Hurry up and have some more."
MARRIAGE ANNIVERSARY
Following up with the comment from that last fan, it seems like Princess is indeed thinking about having more kids with her husband, as she stated on a recent heartfelt post she made to commemorate her second wedding anniversary.
The 34-year-old shared a beautiful pic from her and Ray J's wedding day where she is holding his chin as they kiss.
"Happy 2nd Anniversary to my husband and best friend! Thank you for blessing me with the perfect little mini-me @melodylovenorwood. Our little family is complete (for now)," she captioned the picture, and continued:
"I remember last anniversary I was crying because the test came out negative, but you wiped my tears, held me and told me everything would be ok and to be patient. Who would've known we would be spending our next anniversary with little Mels. I love you both more than anything #FamilyFirst #GODmakesNOmistakes #GodisGood #08122016."
Despite facing some difficult situations that involved Ray J's mother and sister, the happy couple is now in the right place and their "Love & Hip Hop" special, which follows Princess' pregnancy and Melody's delivery, will be aired next week.
Please fill in your e-mail so we can share with you our top stories!