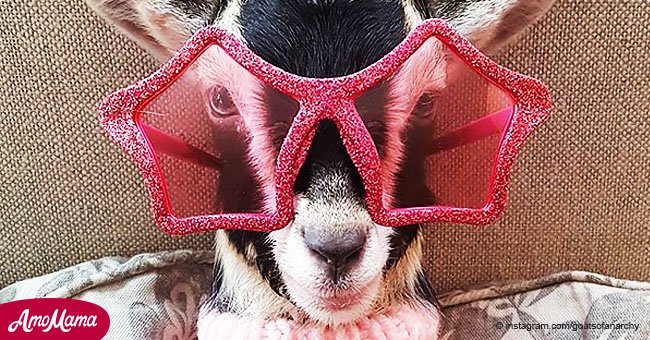 Goat's anxiety can only be quietened with one special outfit
A rescued goat that has medical issues including anxiety found comfort in a fuzzy duck costume bought by its rescuer.
Leanne Lauricella purchased the costume at Marshalls ahead of Halloween, thinking it would be a great outfit for her baby goats, particularly for her newest rescue goat named Polly.
Lauricella is the head of a goat rescue group in New Jersey called Goats of Anarchy.
Polly is one of her baby goats but what makes her extra special is that she needs a little bit more assistance than others.
Follow us on Twitter at AmoMama USA for more details and updates.
POLLY HAS ANXIETY ISSUES
The tiny goat suffers from medical issues, such as blindness, neurological problems, which has affected her eating abilities making her underweight, and anxiety.
Polly often feels the need to be around Lauricella at all times. She cries and becomes frantic every time she can't find Lauricella around the house.
Lauricella shared that Polly had also developed weird habits that she believes stemmed from the goat's anxiety issues.
Speaking with the Dodo, she said, "She'll find a corner of a wall in the house, and she'll just start sucking on the wall. So all the corners in our house have these little suck marks from her mouth."
POLLY "GOES INTO A LITTLE TRANCE"
Suddenly, everything changed when Polly wore the duck costume for a photo. Lauricella immediately noticed how Polly calmed down as soon as she wore the outfit.
"There's something about that duck costume that calms her. She goes into a little trance. She just closes her eyes, and she's out."
Since then, Lauricella had been putting the duck costume on the tiny goat every time she has an anxiety attack.
Polly has other costumes as well, like a pig costume and a unicorn one, but the duck outfit remains to be her favorite.
It has also become useful when Lauricella has to go out and run errands, but she can't leave Polly alone in her home.
One time, Lauricella had to go grocery shopping at a local store and took Polly with her. She made the goat wear the costume, and she was out like a light in the shopping cart.
POLLY HAS A NEW FRIEND
Although the costume turned out to be a great solution to solve Polly's anxiety problems, Lauricella knew it was only temporary since the goat will grow and get bigger.
Luckily, Lauricella found an answer with the help of another rescue goat named Pocket. The goat only recently arrived at their home and is handicapped.
As soon as Pocket met Polly, Lauricella noticed how comfortable Polly was with the newcomer.
"It was almost like that duck costume. I've noticed that anytime he's lying next to her, she just gets calm. I've never seen her do that with another goat here," she said.
Lauricella expressed her hopes that the two goats will become best friends until the end.
A former New York City event planner, Lauricella ended her career in 2014 and felt that rescuing animals was her true calling.
At her New Jersey farm, she has been spending her time taking care of rescued animals, particularly goats with special needs.
Please fill in your e-mail so we can share with you our top stories!