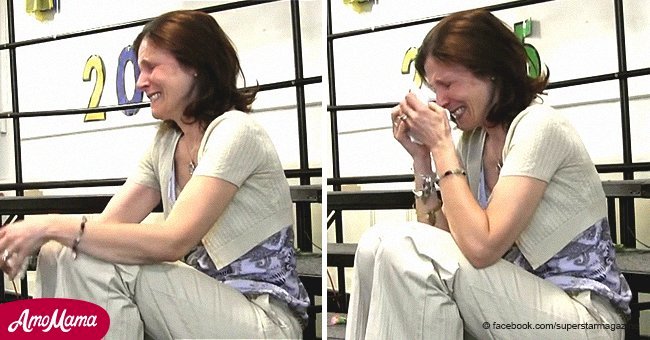 Students sing for their teacher who was diagnosed with cancer
A group of fifth graders at Staten Island in New York serenaded their teacher, who had been battling breast cancer.
An emotional Adriana Lopez listened to the students from a group called PS22 chorus as they sang medleys for her amid her medical condition in 2015.
Sitting on the bleachers, Lopez couldn't help but shed tears while watching the students offer their angelic voices in her honor.
The original video of the singing kids and Lopez's reaction stole the hearts of many online users, and it quickly became a hit on YouTube with more than a million views.
Follow us on Twitter at AmoMama USA for more viral stories and videos.
It was the last song practice for the year and the chorus director, Gregg Breinberg, spoke to Lopez and told her how much of an inspiration she was to the students.
Breinberg told Lopez that the group was "so inspired by your fighting spirit" and they wished to dedicate their final song to her.
Lopez sat on the bleachers with tissues in her hand while the kids serenaded her with a touching rendition of Martina McBride's "I'm Gonna Love You Through It."
With the children's angelic voices, it was no surprise that their version of the ballad sent Lopez to tears.
At one point, during the bridge, the kids were holding up flowers for her.
After their touching performance, Lopez said, "Thank you for this special moment. It was wonderful, and it's not easy, and I will get through it because I have wonderful friends at this school."
Afterward, the beloved teacher shared a hug with the fifth graders.
Meanwhile, apart from Lopez, another teacher was given the privilege to witness an expression of love from 400 high school students in Nashville.
In September 2016, Ben Ellis, who had long been battling cancer, was also serenaded by his students outside his window days before he passed away.
The students sang songs of worship from their favorite Latin and Bible studies teacher.
A month before his passing, even though chemotherapy and radiation treatments had already taken a toll on him,
Ellis continued to show up in school and taught lessons to his students.
Supposedly, teaching the kids was the perfect distraction to help him through his treatments.
In recent news, Robert Goodman asked help on Facebook after he already used his paid sick days as he had been recovering from surgery due to his colon cancer.
He reportedly had several chemotherapy sessions left as well.
Goodman needed at least 20 more sick days to get through his treatments and took to Facebook to ask for help.
Within four days, teachers, staff members, administrators, as well as lunchroom workers, who pay into the Florida retirement system, gave him 75 additional sick days.
Please fill in your e-mail so we can share with you our top stories!