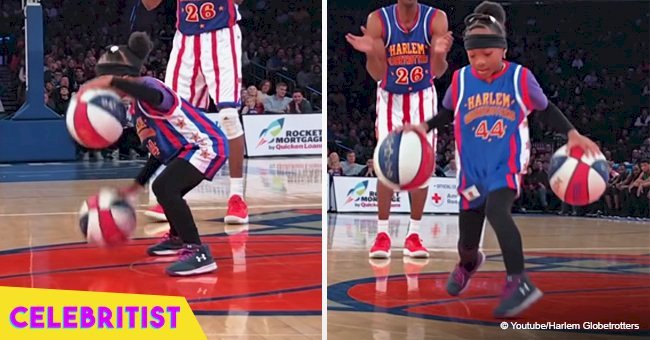 8-year-old girl takes two basketballs and wows the crowd with her dribbling skills

When Samaya Clark-Gabriel displayed her dribbling skills with one ball, the crowd at Madison Square Garden went wild. Then the eight-year-old took up another one and left everyone, including the internet, stunned.
In a YouTube clip that is barely over one minute, Samaya gets a ball from the Harlem Globetrotters and wastes no time in showing her skills. Clothed in a basketball jersey and black leggings, Samaya bounces the ball on and off the court.
At different points during her show, she dribbles the ball between her legs, performs a trending dance routine, and executes a perfect split. Not once does Samaya lose hold of the ball. Not even the crowd's loud cheering and hype from the Globetrotters are enough to distract her.
When everyone thought they'd seen it all, the young athlete takes hold of another ball and, pulls her headband over her eyes, and continues dribbling blindfolded.
"Give it up for Samaya!" the Harlem Globetrotter says, lifting the basketball prodigy in his arms.
According to Samaya's mother, her little girl displayed exceptional talent just one month after she picked up a basketball. She continues to improve her game and has become a basketball star in her own right.
With such extraordinary talent, it's hard to believe Samaya trains only once a week with her professional trainer Justin Bright. For now, Samaya's primary focus is getting an education and helping others with the platform from her newfound fame.
The Brooklyn girl has been involved in fundraisers with St. Jude Children's Research Hospital since she was seven years old and also participates in games to raise funds for cancer patients and their families.
Samaya, who has been on several shows since her talent was discovered, draws inspiration from basketball hotshots like WNBA's Skylar Diggins, Golden State Warriors' Kevin Durant, and Harlem Globetrotters Crissa Jackson.
Please fill in your e-mail so we can share with you our top stories!