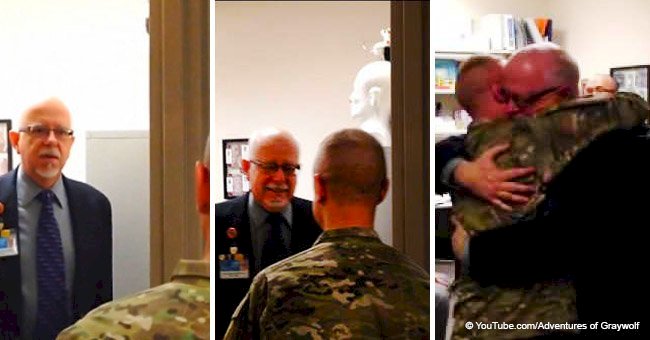 Soldier returns home early from deployment and father breaks down when he surprises him at work
Returning home a few weeks earlier from deployment, Mason decided he wanted to surprise his father at work. When the dad saw his son, his reaction was priceless.
For more than a year, the soldier was away from his family. When he found out that he was going home earlier than expected, he told the great news to his friends.
Wanting to surprise his family, he kept his homecoming a secret from them.
As soon as he arrived, he went straight to his father's office at the hospital he worked in and gave his father the best surprise of his life.
Follow us on Twitter at AmoMama USA for more viral videos and stories.
Walking towards his father's office, Mason was excited to see his father. The receptionist was the first one to see the soldier, and she was beyond surprised to see him.
Mason asked her what his father was doing, and the receptionist informed him that his father was in the middle of a meeting with the reps but urged him to go ahead and knock on the door.
When he knocked, a muffled voice was heard asking who was disrupting the meeting.
Mason did not answer but chose to knock louder. Eventually, Mason's father opened the door, and his reaction when he laid eyes on his son was surreal.
He immediately broke down in tears as he cried, "Mason!"
The father and son then shared a tight hug. It was clear how much they missed one another.
The reps were smiling behind them and said, "This meeting is over. There are more important things going on in this room."
The video was uploaded in 2014 and has been viewed more than seven million times on YouTube.
Near the end of the clip, it was also revealed that Mason also surprised his mother and sister following his special reunion with his beloved father.
In Ohio, another soldier named Scott Hall also surprised his father, Nolan Hall, when he came home early for Christmas in 2017.
Scott was away from home for nine months as he was stationed at Fort Hood, Texas.
Please fill in your e-mail so we can share with you our top stories!