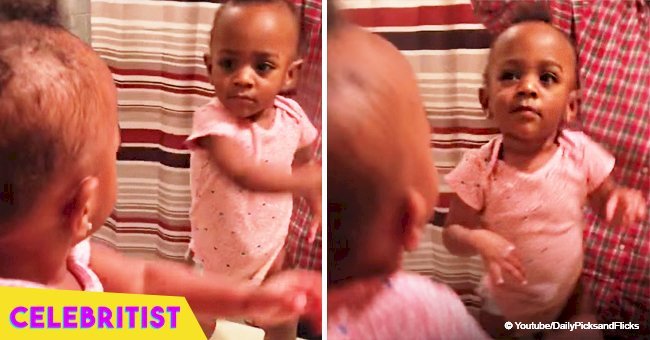 Baby girl melts hearts dancing along to dad's rapping in adorable video

Another day, Another baby to make us go "awww" on the internet. One dad decided to practice his rap skills and happened to have the most adorable dancer rocking to his beat.
The 30-second video was posted on YouTube alongside a caption that says:
"This little girl loves to dance along to her dad when he performs for her, and luckily he was able to capture the adorable moment on camera for the world to share in her cuteness."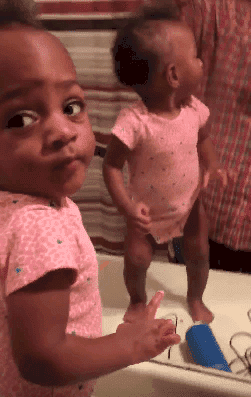 YouTube/DailyPicksandFlicks
The clip shows a dad and his little girl in front of the bathroom mirror as they put on a show. The cute tot uses the bathroom counter as her stage where she wiggles passionately to her father's "rap."
"Put your hands up and put a hip in it. Get wild with it. Get crazy," the dad sings while the little diva does her best to obey, swinging her arms and her tiny hips.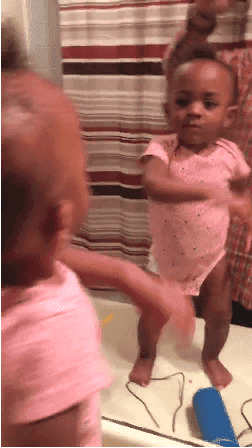 YouTube/DailyPicksandFlicks
Now and then, she also bops her head as dad raps: "Just swing your arms in the air, You've got a big [expletive] hair you don't care."
Throughout the performance, daddy's little girl keeps looking back to ensure he's still there; apparently, she's having the time of her life. She also checks up to see how she's doing in the mirror but doesn't miss a beat in the process.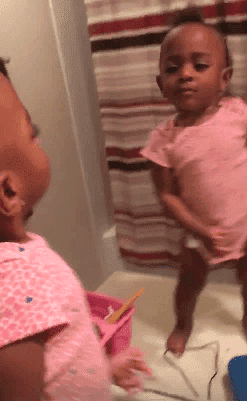 YouTube/DailyPicksandFlicks
The father-daughter concert duo is so adorable in their matching pink outfits- dad in a shirt and his baby girl in a onesie- that they became internet favorites in no time. One of the comments that followed the heartwarming video said:
"I love this video. Whenever I want to smile I come here. Never fails. She is so adorable and I love this father daughter relationship."
Everyone loves a father-daughter video. Six-year-old Charity Joy and her father Seymore Harrison Jr. discovered that after their video of a popular song went viral.
Joy wanted to sell all her Girl Scout cookies for the most thoughtful reason and enlisted the help of her father to remix a popular song. She ended up selling over 3,000 cookie boxes when she initially planned to sell 1,300. You can read Joy's story Here.
Please fill in your e-mail so we can share with you our top stories!