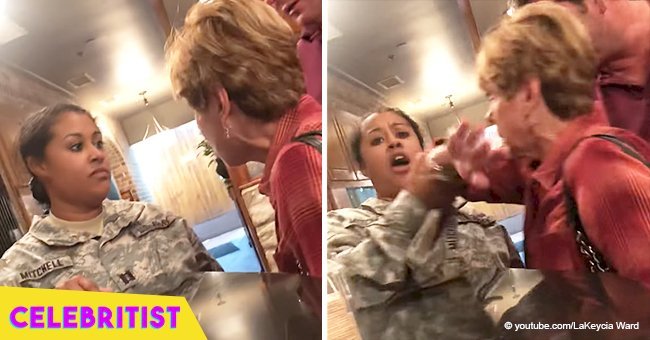 White woman assaulted pregnant Black officer over parking place
A 71-year-old pensioner assaulted two black female army soldiers over a parking space in Macon, Georgia. One of the soldiers was pregnant.
Judy Tucker and her son Robbie became the object of online hatred and dismay after a video shot by witness LaKeycia Ward, show how the mother-son duo attacks a pair of army soldiers while all of them waiting for a table at the Cheddar restaurant in Macon.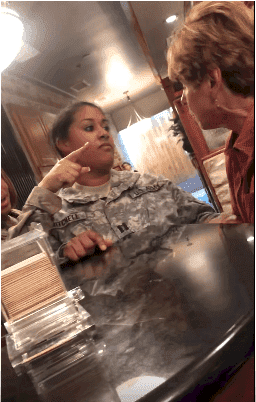 Credit: YouTube/LaKeycia Ward
As reported by Mirror, the incident started when servicewomen Stephanie Mitchell and Treasure Sharpe arrived at the establishment's parking lot and were backing their vehicle into a spot. Judy's son, Robbie, allegedly approached them to tell them they didn't know how to park, throwing some nasty words at them.
However, the women ignored the comments and went ahead to enter the restaurant. As they waited for a table, Robbie followed them and, according to their declarations, he called them "black lesbians." That's when LaKeycia decided to start recording the incident. According to witnesses, Robbie also yelled: "I didn't know they allowed lesbians to serve."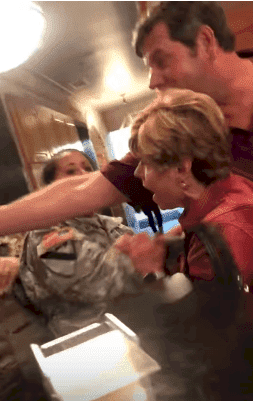 Credit: YouTube/LaKeycia Ward
As the discussion escalated, Treasure pulled out her cell phone to film her aggressor's face, which enraged Judy, who charged against the woman trying to take the phone away as she told the officer that she didn't have the right to film her face.
While Stephanie was trying to keep things under control, asking Judy to calm down, Robbie went ahead and tried to snatch Treasure's phone off her hands, that's when people from the restaurant decided to intervene, getting off their tables and yelling at Robbie and his mom to stop.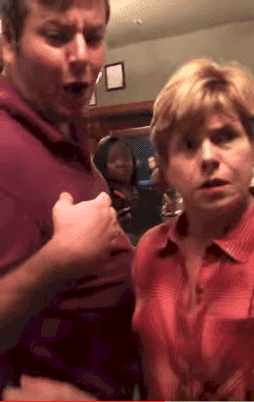 Credit: YouTube/LaKeycia Ward
Amid the chaos that ensued, Judy hit Stephanie on the face and pushed her, while Treasure can be heard in the background of the video saying she's pregnant. People from the restaurant stood their ground to protect the servicewoman, and the staff of the Cheddar restaurant kicked out Judy and Robbie from the establishment.
The Mirror added that the Bibb County Sheriff's Office arrested Judy on a charge of simple battery, and she was released on a $590 bond. Robbie was not charged as the authorities decided Judy was the primary aggressor.
The lady told officers that she got angry with Treasure for filming her face, and while she tried to make her stop, Stephanie started the physical aggression by scratching her arm. She also stated that the incident was racial and that she was targeted for being white.
A DIFFERENT CRIME ON A PREGNANT WOMAN
Attacking a pregnant woman is a serious crime, and last July a North Miami Beach police officer was arrested after kicking a pregnant woman in the stomach. She was fired soon after the incident.
According to WSVN, former police officer Ambar Pacheco was off duty when she was arrested in Miami Beach after getting into an argument with the victim's boyfriend, Joseph Predelus. The woman told the police that Predelus had kicked her sister in the face, so she "saw red" and attacked his girlfriend.
The man denied the accusations, and blamed Pacheco's behavior on alcohol, as he stated:
"They probably were drunk. As I was talking to the police, I realized they were drunk, so I guess the alcohol probably kicked in. Like I said, we were minding our own business, just walked by, and I was talking to my baby mother, said she was so emotional, and the girl figured that she was talking to them. Like I said, she came towards, talking about, 'What that be said?' and then tried to attack her."
Evony Murray was eight months pregnant at the moment of the attack, and the kicking sent her into premature labor almost instantly. The woman was transported to Mount Sinai hospital and arrived just in time to deliver a healthy baby boy that was named Joe.
Predulus welcomed his child alongside his girlfriend, and even though the baby wasn't born in the ideal conditions, the proud parents were happy the baby was okay. "It was stressful because I had to go through it," said Predelus. "Luckily, we had got her to Mount Sinai just in time because it only took seven minutes for the labor."
"When he was born, it put a smile on my face," he added. "All my concern is that he was happy."
Pacheco was fired from her spot on the North Miami Beach police, and she charged with one count of aggravated battery on a pregnant woman.
Please fill in your e-mail so we can share with you our top stories!