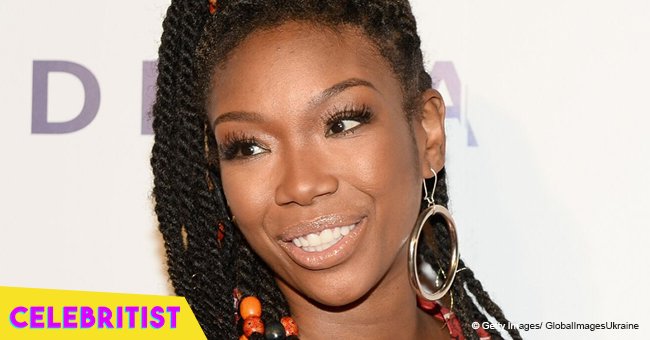 Brandy melts hearts with photo of daughter in braids, T-shirt & tight black shorts
It seems like Brandy and her teenage daughter are not together these days. While the singer and actress has been busy going into the recording studio and shooting for FOX's series "Star," her daughter is back home studying hard.
Brandy gave Syrai' a shot out on her Instagram account, posting a beautiful pic of the girl to remind her, and her fans, how loved she is. In the throwback pic, the teenage girl looks stunning wearing a dark blue t-shirt, tight black spandex shorts and a fanny pack to match.
The pic is not new since Syrai' is rocking braids on it, but the girl made a radical change to her hair a few months ago, getting a pixie cut that enhances her gorgeous facial features.
"I miss you my girl!!! @syraismith Mommy loves you. You're so beautiful #Sunshine #16," Norwood captioned the picture.
While most fans are always eager for praising Brandy and Syrai' in her comment section, the 39-year-old chose to deactivate her comment section in that particular pic, probably trying to protect her daughter from haters and trolls.
Syrai' recently celebrated her 16th birthday, and to commemorate the occasion; she decided to lose some weight to lift up her confidence and self-love. The teenage girl even gave some words of wisdom to a group of girls on an Instagram live, causing her mom to burst with pride.
SYRAI'S LESSON ON SELF-CONFIDENCE
While talking about body image and how she's always been bigger than most girls at her age, Syrai' took the chance to encourage young girls that, like her, were struggling with self-confidence and self-esteem issues, saying:
"I can't do anything about my past, and I can't wish that I was somebody else. Being who you are should be more important than worrying about what you look like on the outside. Because there can be a beautiful person in a beautiful body, but on the inside, you can be so ugly."
She continued saying that even If you want to make some changes in your life, it should be a self-conscious decision in wanting to get better, and not because other people are saying "You're a big girl, you're fat, you're this, you're that."
Syrai' added:
"Don't ever let anybody else tell you who you are. That's the one thing that made me want to lose weight. It's because I wanted to lose weight for myself. And don't say that someone is going to treat you better because you're skinnier. That's not true. As long as you know who you are, nobody is going to care about your weight if you walk into that school with confidence."
Her words were so powerful that she moved her mother to tears, as Brandy expressed in the caption of the video she shared of the moment.
Brandy has a pretty good relationship with her daughter, as she said to People that more than a mom, she likes Syrai' to confide in her like a best friend. "She's really honest with me. I'm just teaching her how to trust herself. I tell her all the time that my life is not your life — you have your own life," she said.
"At the end of the day, we're going to be friends. When she grows up, it'll be about that friendship that we'll have. She'll come to me for any problems that she has."
Please fill in your e-mail so we can share with you our top stories!