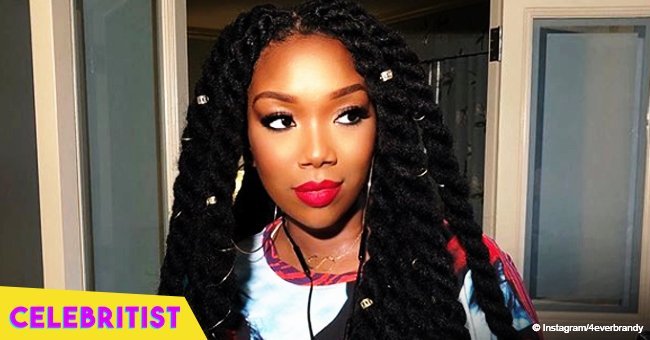 Brandy's daughter rocks short hair and army-inspired pants in recent picture

Brandy's 16-year-old daughter Sy'rai Smith shares a confident photo of herself flashing a cheesy smile while dressed in a black shirt and camo pants.
Sy'rai undergoes a lot of pressure as a teenager, but it can be even more frustrating when you're a child of a celebrity. While she wasn't exposed as much on social media as compared to the way other actresses do, her daughter has been a topic of conversation ever since she was a child.
Now that she's all grown up, Sy'rai has made herself more open to the social media world, and that means showing off some of her outfits through self-made photo shoots.
Previously, she debuted her fresh haircut, which was a refreshing short look as compared to her long locks. Of course, the teenager made sure to showcase her new look in a series of photos that she posted on Instagram.
Sy'rai is extremely confident with her new look, and that speaks waves for her especially since the video her mom posted earlier this year. In the video, she speaks about confidence, confessing how she was always "bigger than most kids", but she learned to love herself for who she is.
"I can't do anything about my past and I can't wish that I was somebody else. Being who you are should be more important than worrying about what you look like on the outside."
Smith also made sure to try and inspire other teenagers, saying that beauty transcends the body because what really matters is what's on the inside. However, in hopes of trying to take better care of her body and having a healthier lifestyle, she tried to lose weight but insisted that this was for her and not for anyone else.
"Don't change because other people are saying, 'You're a big girl, you're fat, you're this, you're that.' Don't change because of what they say, change because you want to change. Don't ever let anybody else tell you who you are. That's the one thing that made me want to lose weight. It's because I wanted to lose weight for myself. And don't say that someone is going to treat you better because you're skinnier. That's not true. As long as you know who you are, nobody is going to care about your weight if you walk in that school with confidence."
Her mom Brandy is extremely proud of who her daughter has grown to be, and of course, we're proud of Brandy as well, for raising an amazing girl like Sy'rai.
Please fill in your e-mail so we can share with you our top stories!