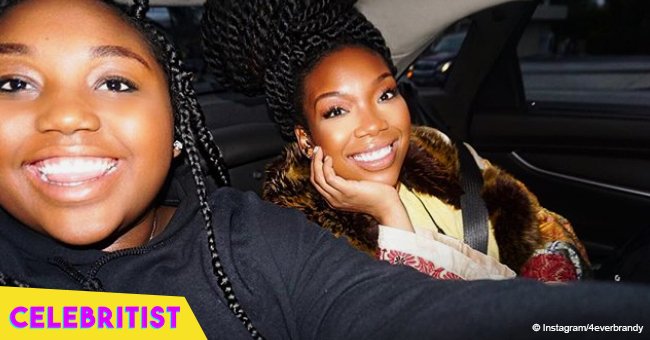 Brandy's 16-year-old daughter rocks orange hat in new pic after cutting off her long hair
Brandy's teenage daughter Syrai proudly flaunts her new hairstyle in new photos she shares. The 16-year-old stuns in her latest look following her earlier confessions on body confidence.
Fresh from a new haircut, Brandy's daughter Syrai Smith showcases her new look in a series of fashionable snaps.
Syrai loves her latest do as evident in her photos where she's all smiles. The 16-year-old has been a poster child for confidence ever since her mother shared an inspiring video of her early this year. And that confidence radiates today as she poses against the backdrop of the Atlanta skyline.
In February, Syrai featured in a video her mother posted where she inspires confidence in others. She confessed she was "bigger than most kids" but she learned to love herself for who she truly is.
"I can't do anything about my past and I can't wish that I was somebody else. Being who you are should be more important than worrying about what you look like on the outside."
Syrai also stressed that beauty transcends the body "because there can be a beautiful person in a beautiful body, but in the inside you can be so ugly."
It's no secret the young celebrity daughter attempted to lose weight but she insisted she did this for herself and not for anyone else and that became her message to others struggling with their weight like her.
"Don't change because other people are saying, 'You're a big girl, you're fat, you're this, you're that.' Don't change because of what they say, change because you want to change. Don't ever let anybody else tell you who you are. That's the one thing that made me want to lose weight. It's because I wanted to lose weight for myself. And don't say that someone is going to treat you better because you're skinnier. That's not true. As long as you know who you are, nobody is going to care about your weight if you walk in that school with confidence."
Today, Syrai exudes that same confidence in the photos she recently shared where she fashions an orange headpiece to highlight her new hairstyle. She complements it with a pair of giant gold hoop earrings as she dons a denim jacket.
Brandy certainly raised her daughter well to have that much confidence despite growing up in the limelight and amid judging eyes. This may also stem from the kind of relationship the singer nurtured between them. She told People, more than a mom, she is first and foremost a friend to her daughter because it makes it easier for Syria to open up to her.
"I know I'll probably get flack for being a friend first, but it really works [Sy'rai]'s really honest with me. I'm just teaching her how to trust herself. I tell her all the time that my life is not your life — you have your own life. At the end of the day we're going to be friends. When she grows up, it'll be about that friendship that we'll have. She'll come to me for any problems that she has."
Meanwhile, just like her daughter, Brandy has been releasing positive energy lately as she proudly embraces her curvier figure. The singer confessed on going on a "foodcation" recently which resulted to her putting on weight. Now happier with her fuller body, Brandy is also delighted to be able to eat anything she wants after years of adhering to what she described as a "crazy discipline." No one's complaining too as fans love her new look.
Please fill in your e-mail so we can share with you our top stories!