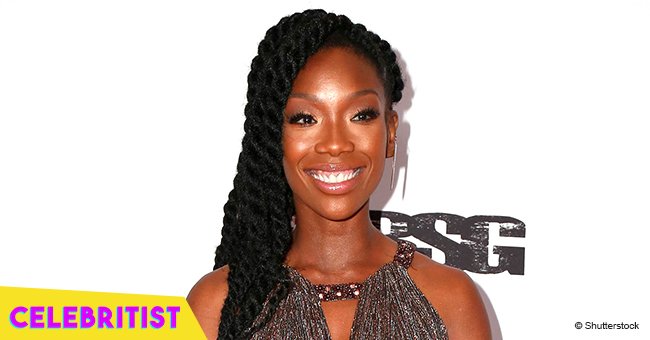 Brandy flaunts fuller curves in mini orange dress after gaining weight
The once reed-thin singer who reportedly gained 40 lbs debuts a sexier look that fans are appreciating. She admits her weight gain is due to food and not pregnancy as many assumed.
Singer Brandy is showcasing a fuller body and fans are loving it. The 39-year-old has been surprising her followers with photos of her weight-gain over the past year and while many assumed she was pregnant, she actually just decided to loosen up on the dieting and just enjoy her food.
In a photo she recently shared, the 'The Boy is Mine' singer paraded her curves in an orange mini-dress and she's a total knockout. With fuller cheeks, more pronounced arms and legs, the mother-of-one still glows.
Her fans think so too as they flooded her comments section with praises for the singer for looking good. Here's what they had to say.
"Just Gorgeous! Beautiful Queen"
"Yesssss!! Loving this weight baby!! This that Moesha weight!!"
"thick Brandy is LIFE looking like a young Moesha"
"I know this isn't your normal weight but Brandy...This weight looks good on you. You've been "in shape" your whole career. Why not eat Wtf you want and be happy and STILL LOOK GOOD"
"I love Brandy with the chuncky cheeks.. She looks so young"
Back in May, Brandy's brother Ray J shut down rumors that she was pregnant which began when people noticed she was putting on weight. Speaking to People, the singer married to Princess Love explained,
"You know, she likes the weight. I had to ask [her] too cause too many pictures… And she said, 'I like my weight.' You know, she's just enjoying her weight."
Rumors of her pregnancy also circulated after the mother-of-one posted a cryptic photo, one where the camera was at a low angle and focused on her midsection. With the caption "Dear God, I can finally see you in me," the suspicions were fueled more.
But according to Brandy her weight gain was simply a result of a "foodcation she took. In an interview with True Exclusives she revealed,
"I went on a foodcation, because I'd been eating clean for like 7-something odd years, in the gym, everyday, playing tennis. I'm like, 'Yo, I'm tired of this crazy discipline. I need something to eat! I want some pizza, I want some pasta, I want some cake! I want something other than salmon, broccoli, and asparagus."
Luckily for the star, she's one woman who isn't being body shamed for gaining weight. Clearly, fans appreciate her new look and don't mind seeing her that way. Now Brandy can enjoy her food and rest in the knowledge that she has her fans' support.
Please fill in your e-mail so we can share with you our top stories!