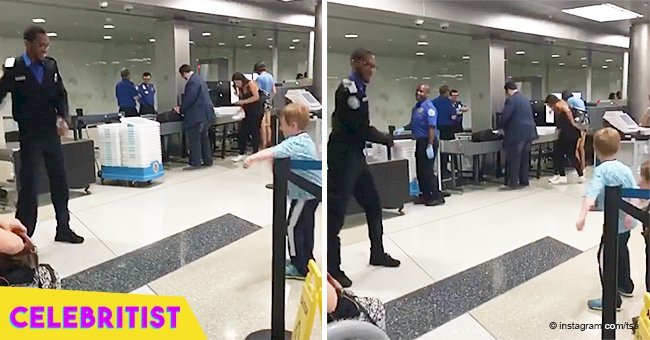 TSA officer faces off with little boy in a dance showdown at airport in viral video
A viral video reveals a TSA Officer mirroring a young boy's complicated dance moves as they engage in an amusing showdown at an airport security checkpoint.
Security checkpoints don't have to be an uneventful experience. In fact, a TSA officer just showed a young boy how fun it could be. In a clip that's gone viral, TSA Officer Joshua McCall accepted 7-year-old Preston's challenge to a dance showdown after clearing his family at New Jersey's Newark Liberty.
McCall had just finished processing Preston's family-of-five through a security checkpoint when the little man who just placed second in a dance competition showed off his dance moves by performing The Floss. Preston's mother, Valerie Richards took a video of her son but was later surprised to see McCall joining and mirroring him in response to his challenge. The unlikely duo did The Floss multiple times before switching up to another move that involves clapping above their heads.
During a subsequent interview with NBC after the video went viral, TSA Federal Security Director for New Jersey, Tom Carter said his officers would "be happy to accept any dance challenges from passengers," as long as it doesn't disrupt a busy day.
"It's a good example of the human side of our great and dedicated professionals on the front lines of homeland security."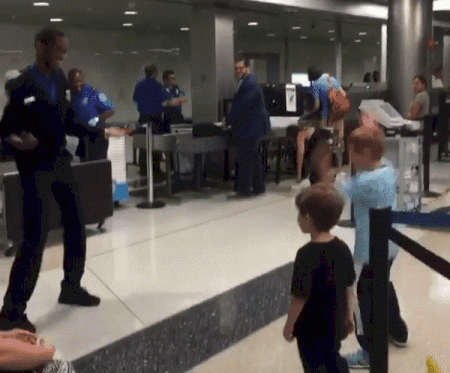 Source: TSA on Instagram
McCall, who also posed for a photo with Preston and his family was tagged in one of the video's shared posts. In the comments section, he wrote,
"My manager recorded this and took a pic of me and the kids family we praise positivity over here. You know I love the kids."
Preston's mother later revealed to Fox 13 that her son broke into dance at the airport because he was still basking in his 2nd place win in a freestyle dance competition. She also said Preston was born a preemie and was naturally full of personality. Upon hearing about the popularity of his video, Valerie said Preston was so happy and that McCall "really made his day."
McCall isn't the only officer on the job whose made headlines due to his dance skills. In Virginia, officers of the Norfolk Police Department produced a video where they're singing and dancing to Bruno Mars' "Uptown Funk." The video was in response to a lip-sync challenge circulating among police departments. In the clip, the officers showcase their dance moves as even firefighters and admin personnel join in. They dance in different areas of their office until it leads them outside where the action culminates with everyone dancing individually and clapping in the end. Here's that fun clip proving police officers are a lot of fun too.
Please fill in your e-mail so we can share with you our top stories!