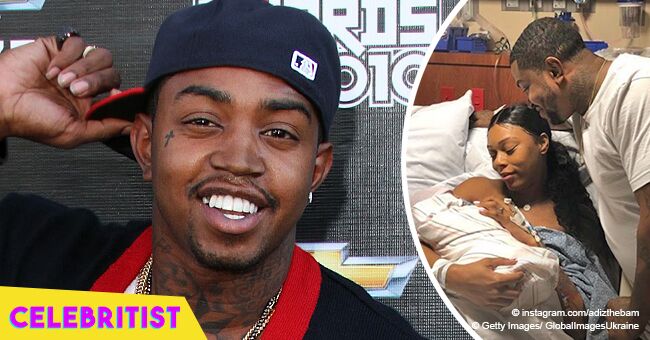 Lil Scrappy shares touching photo with wife & newborn son on their 'first doc visit'

Lil Scrappy posts photo of him, his wife, and their newborn son's 'first doc visit' and Instagram users all warmly congratulate the couple.
Just yesterday, Lil Scrappy posted a photo on Instagram of his little family. The selfie shows him and his wife holding their newborn son and is captioned: "First doc visit with mom and pops #TheRichardsons #Brelandhere." The post quickly gained over 300,000 likes and comments congratulating the new parents.
Little Breland was born last September 21, and made Lil Scrappy and his wife Adi "Bambi" Benson the happiest people on Earth. The new father was up to date on social media, posting and documenting the coming of his firstborn son.
As soon as his baby boy was born, the TV star informed the rest of social media that Bambi had given birth to a healthy baby boy, which weighed 8 pounds and 3 ounces. He also made sure to acknowledge that his wife had quite an easy time during delivery, giving birth in just three pushes.
Breland is Lil Scrappy's second child, after his 13-year-old daughter, Emani, with his former partner, Erica Dixon. Of course, Lil Scrappy is just as proud of his daughter which he shows on Instagram.
He recently posted a photo of he and his daughter too with the caption:
"Wow this is my first born who taught me how to be a parent and who's excited about her lil bro that's coming, last week having just one kid God's blessing I can't wait to keep spoiling Emani and can't wait to spoil the second one I'm nervous and excited pray for us #babywatch2018 #Breland."
This family is certainly one to watch out for as they take on new adventures with their new member of the family. Bambi and Lil Scrappy are ecstatic about the arrival of Prince Breland, and now that they are about to head on to a new journey with their first child with them, it'll definitely be something they'd be sharing to all their fans - and we can't wait to see all their adorable updates!
Please fill in your e-mail so we can share with you our top stories!