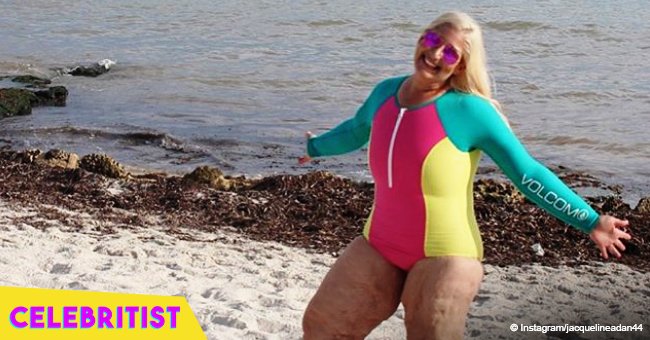 Woman who lost 350 pounds body shamed on the beach even after skin removal surgery
Even after losing 350 pounds and going through five skin removal surgeries, people still made fun of Jacqueline Adan when she decided to take a walk down the beach on her one-piece swimsuit. However, the 30-year-old shared with her followers a valuable lesson about the incident.
Adan has been documenting her weight loss journey on her blog, Instagram and YouTube account for the last three years. The Montessori preschool teacher has always struggled with her weight, but in 2012 she realized it was time for a change after she reached the 500 pounds mark.
Jacqueline was determined to lose some pounds, and she has not looked back ever since. Through healthy eating and exercise, she had an incredible transformation that continues to inspire people on a daily basis. However, her body is still a work in progress, since she had a lot of loose skin after losing weight.
She has gone through five skin removal surgeries, including her upper and lower body, arms and legs, but she still has a long way to go, as she's expecting at least three more surgeries to come.
Last year, Adan went on vacation to Mexico with her fiancé Kevin, but she was nervous and insecure about taking off her cover-up. However, gave herself an internal pep talk, and when she finally got the courage to do it, she was made fun of by a couple that was by the pool.
"I did not know if I was going to cry or put my cover-up back on and not go swimming. For a moment I froze," she said of the incident. "I could not believe how someone could judge me and make fun of me. They had no idea who I was, what I had been through or what I was currently going through."
THE BODY SHAME AND MOCKERY
Despite her struggles, Adan's change has not only been physical, but she's also learning to accept and love herself with all her flaws and imperfections. So, when she went on vacations this summer, she was more than ready not to mind people's stares and enjoy herself at the beach and the pool.
But once again, she was the object of mockery while she was walking down the beach, this time by a couple of kids and their parents. "It happened this year while I was on vacation again," she wrote on Instagram. "Yes, I was walking on the beach, and again I was pointed at and laughed and made fun of."
But this year, she said, something different happened inside of her:
"As I was getting laughed at and pointed at something came over me. I was not embarrassed, I did not feel like I had to justify myself and I did not freeze or want to cry. I actually felt free! This time…I just did not care!"
Adan said that at that moment, she realized that the more significant change has come from deep within, as she realized that she doesn't depend on other people's opinions or approval about her or her body to love herself.
She wrote:
"I can finally say that I am at a place where I still have insecurities and a lot of loose skin, and yes mentally I still struggle at times, but I can finally say that my self-love journey has been the focus of this past year, and being at this place in my life where I can walk around in a bathing suit and genuinely feel confident, happy and not care what others may think or say, that is true transformation. That is true growth."
THE PAINFUL SKIN REMOVAL PROCESS
While Adan is continually encouraging people to work hard and take the best decisions for their bodies and minds, she also keeps it real and has been open about the painful and delicate process of her skin removal surgeries.
Speaking to People a few months ago, Jacqueline revealed that she decided to remove the loose skin because even after losing weight, she couldn't see the difference because of the hanging skin on her stomach and extremities.
"You still feel fat, and you still can't fit into clothes because the skin won't fit," she said. "I felt proud of myself, and I knew I had lost 350 lbs., but when I looked in the mirror, I saw my body completely differently. It was hard to see anything but that same, overweight girl."
THE MENTAL HEALTH JOURNEY
She started her process in June 2016 and had gone into the operating room four times after that. The last one was in January 2018, when she faced her first skin removal on her legs. The surgeries left her swollen and with a lot of pain, but she doesn't regret them, as she said:
"I'm so glad that I did it, not just for my physical health but for my mental health and wellbeing. But they are very difficult procedures."
Adan hopes her journey can help and inspire others, whether is to lose or gain weight or to seek help and know they're not alone in the world with their struggles. "I hope that no one ever feels ashamed or embarrassed if they are struggling with an eating disorder or body dysmorphia or with their own body image or self-love," she said.
"For me, actually admitting I needed some help and realizing that I was struggling and accepting what was going on and admitting it was exactly what I needed to overcome this and continue to move forward. No matter what you are going through or struggling with, it is okay to ask for help!"
Like Jacqueline, another inspiring woman who looks unrecognizable these days after shedding 455lbs in two years is Nikki Webster. However, unlike Adan, Webster had a gastric bypass surgery to help her with the process.
It shows that different people have different approaches when it comes to doing the best for their bodies and health, and it doesn't mean that a process is better than the other.
Please fill in your e-mail so we can share with you our top stories!