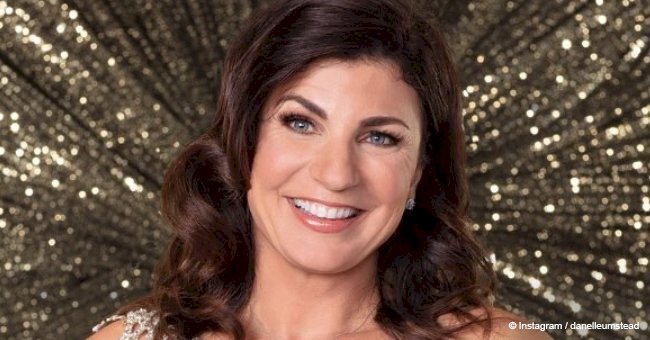 Blind dancer on 'DWTS' Danelle Umstead opens up about her second partner behind the scenes

Danelle Umstead, a visually impaired alpine skier, is letting the public in when it comes to her little helper as she takes the stage on "Dancing With the Stars."
The 46-year-old competed in the Paralympic Games earlier this year despite her impairment and suffering from Multiple Sclerosis. She is unable to see more than five feet without detail.
She will be the show's first visually impaired competitor. She spoke with PEOPLE about her indispensable guide dog who will also be assisting her on the show.
Follow us on Twitter for more @amomama_usa.
In addition to partner Artem Chigvintsev, Umstead will once again employee the adorable services of Aziza.
The three-time bronze medalist described how crucial the dog's help is:
"Aziza is my comfort place. She gives me the confidence to get around everywhere I need to go so that I can be a part of the show. She is there supporting me during every little detail - watching me, ready to take care of me when I need her."
Umstead, who was diagnosed with Retinitis Pigmentosa at only 13, explained the difference in the time windows given to prepare for the Olympics versus the grueling dance show:
"For the Paralympics, you have four years to prepare. For DWTS I have two weeks to prepare for two dances, then one week to prepare for more dances. It's very short training in comparison to learning something in full detail, understanding it, getting better at it. In sport, that's a focus you have for four years. Here, this is a focus that's week to week."
Aziza, an outgoing four-legged canine, seemed to be well-prepared for the challenge:
"She gets super excited. She puts the tutu on and wiggles around, and she's happy to do it as long as she knows she's getting her Natural Balance treats. As long as there are treats, she'll do her dance movies on the floor."
The new dancer has a partnership with the dog treat producer Natural Balance, which she said is "made for [her]" since "that's all my dogs eat."
Umstead has needed to develop a trusting relationship with partner Chigvintsev regarding her safety, but she is looking forward to the show's 27th season:
"I'm excited to get out there and see what I'm capable of when it comes to dancing."
Meanwhile, her partner was forced to communicate effectively without the visual element.
"And seeing how being visually impaired and having Multiple Sclerosis comes together and hopefully, it's a beautiful package that America will love."
The athlete is filled with "nerves of excitement, fear, being vulnerable."
According to Pop Culture, Umstead also divulged that "learning how to trust Artem in very little time has been a challenge, and having him understand me, and he's been so amazing, open, and excited, and challenged himself."
She added that they have had to make use of touch, and the imitation of it, to help Umstead learn the dance moves.
But more so, Umstead has to be able to trust her furry friends:
"They have to be quick learners because I do not do the same routine every day, ever. My life's constantly changing. I'm going different places all the time. They have to be alert. They have to be on it. They have to have that ability to just react to anything that's happening at any time. If I don't eat right, I can't even do that. I forgot to eat here, and I'm miserable. I couldn't function, I couldn't do anything right. I'm like, 'Well, I need to do what I do for my dogs.' "
The show, which premiered yesterday September 24 on ABC, also features a popular actress from the Harry Potter series and a well-known R&B singer.
Evanna Lynch played "Luna Lovegood" in the Harry Potter movies, will Tinashe has blown up in the music industry over the past few years. The two were the last celebrities to be announced for the show earlier this month.
Please fill in your e-mail so we can share with you our top stories!