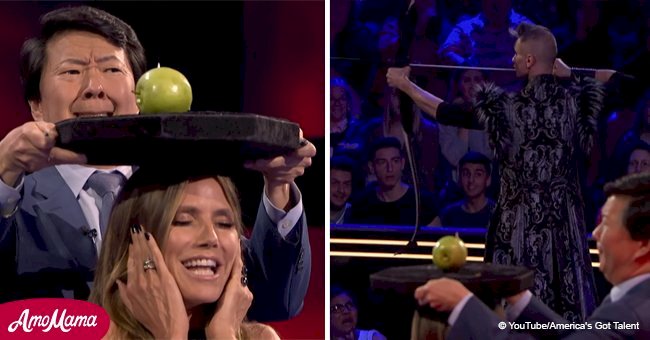 Contestant on 'America's Got Talent' shoots an arrow at Heidi Klum's head

'America's Got Talent' contestant uses Heidi Klum for his act as a prop to put an apple on that he will shoot off her head with a bow and arrow.
Daredevil Aaron Crow has everyone on the edge of their seats with his latest performance.
HIS PREVIOUS ACTS
Read more on our Twitter account @amomama_usa.
Aaron Crow first auditioned for 'America's Got Talent' a few weeks ago, where he delivered an act on June 5 sending him through to the next round.
During the first round on July 17, his performance was thrilling and dangerous. He made it through to the second round where he included Heidi Klum in his dangerous act.
CROW'S ACT WITH HEIDI KLUM
During this first episode dedicated to the judges' cuts, his performance included both Heidi Klum and comedy actor Ken Jeong. Crow starts off by asking Heidi Klum to take off her ring which he then placed in a hollowed out apple.
The apple was then put on a plant which had to be held in place and balanced on Heidi Klum's head by actor Ken Jeong. About 20 feet behind Klum and Jeong, Crow set up a target with a bulls-eye about 20 f away.
In another story one 'America's Got Talent' judge was hospitalized due to a panic attack during flashbacks with her previous relationship with Stephan Belafonte, Melanie Brown was released later but more to this story followed. The full story can be found here.
Walking into the audience he climbs onto a rotating platform. Crow lifts up a cocked bow and arrow with an attached laser pointer and takes aim at the apple. As Crow turns around on the turntable he let go of the arrow.
Slicing the apple it hit the target almost dead center behind them, with Heidi Klum's ring hanging from the arrow.
Another act by Aaron Crow is said to be the most heart-pumping act seen on any talent show. In this performance Crow covers his eyes with hot wax and then proceeds to swing swords at Howie Mandel. For more on this exciting performance can be found here.
Please fill in your e-mail so we can share with you our top stories!