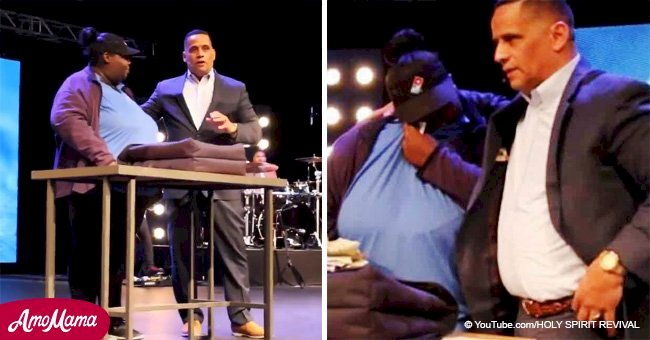 Pastor surprises woman who delivers pizza to his church with incredible kindness
The single mother-of-two who works as a delivery woman at her local Domino's was stunned to get the biggest tip of her life.
It came from an entire church congregation thanks to a pastor and Monique Hall was in tears when over 70 people offered their help to assist her in making ends meet.
It all started when she was called to deliver pizzas at a local church in Chicago and was sent on stage by Pastor Wilfredo De Jesús.
Pastor De Jesús from the New Life Covenant Church had been teaching his congregants to be kind to strangers and to never hesitate in lending a helping hand.
Follow us on Twitter account @amomama_usafor more stories and updates. In February 2018, the pastor took his preaching to the next level.
He ordered a pizza and had it delivered to the church's address. Pastor De Jesús specifically asked for Hall to deliver the food.
Once she arrived, she was asked to head up on stage which made her feel confused.
She was stunned when Pastor De Jesús gave her $100 as a tip for the delivery.
Just when she thought it was the best day of her life, the pastor then asked ten more people to contribute the tip.
More than ten people went up on stage to give her money. Hall was in tears and was clearly touched by the random acts of kindness displayed by the churchgoers.
She went back to Domino's with a basket filled with cash.
Even though all the money could have helped her greatly since she had been the sole breadwinner in her family, she shared the tips with her fellow staff at Domino's.
Speaking with WGN, she said, "I definitely wasn't expecting it, but I knew that I had been struggling for a long time being a single parent…especially trying to make ends meet."
"So when they did that, I was overwhelmed and I was shocked. I felt so loved by them – all I could do was cry."
A lot of people were so moved by Hall's story that even Steve Harvey featured her on his show.
Meanwhile, in Texas, another act of kindness was displayed by a pastor. He surprised their church's cleaning lady with a brand new home.
He found out about the harsh living conditions of the cleaning lady – who was working at the church for more than a decade – and decided that he wanted to help.
Read the full story here.
Please fill in your e-mail so we can share with you our top stories!