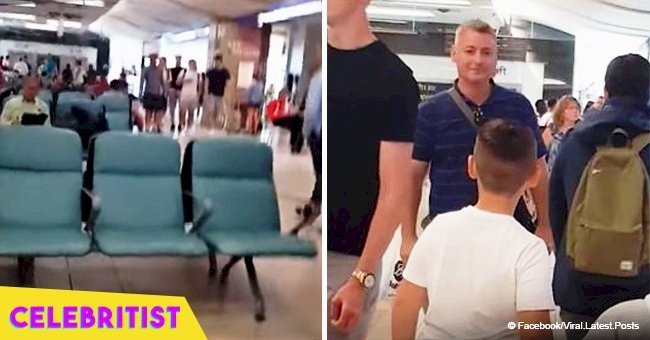 Divorced mother takes kids on vacation when suddenly son sees father walking towards them

Laura Dee recorded the moment when she and her children were at an airport waiting to board a plane to Cyprus for vacation when their father surprised them.
In the almost-two-minute-clip, 11-year-old Darcie and nine-year-old Callum appeared walking in the duty-free area of the airport. Laura kept asking them if that was where they had been before, suggesting that they were lost.
After reaching a "dead end," they turned around and started walking back to where they had come. Callum was in front of the family while Darcie was right behind him pushing her little brother's stroller.
Between a group of people who were walking in front of him, Callum recognized a face, but couldn't believe it was who he thought, so he tried to take a closer look.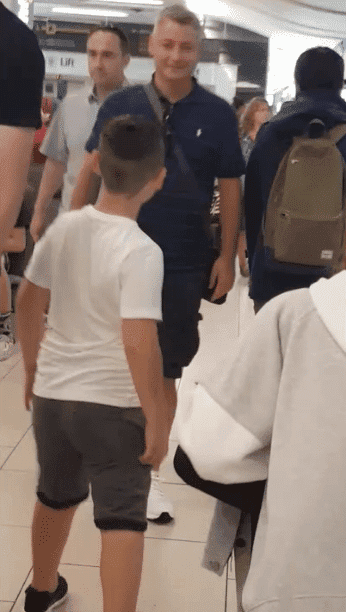 Source: YouTube/NEWS TV
SURPRISE!
When he noticed that it was his father, he timidly embraced him and turned around to see Laura. The proud mother said, "he is coming with us," and Callum quickly hugged him tightly.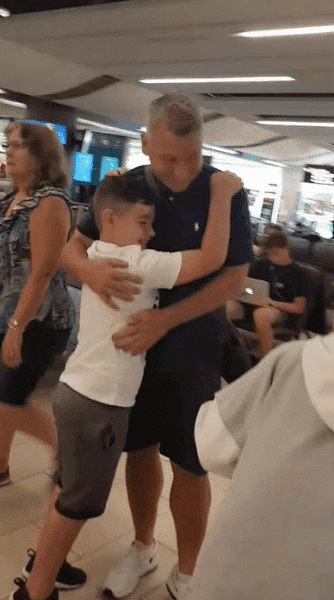 Source: YouTube/NEWS TV
THEY WERE SPEECHLESS
Darcie immediately started crying and, after a while, the man was hugging his two crying children in the middle of the airport. Laura asked them what they thought about the surprise, but they were left speechless.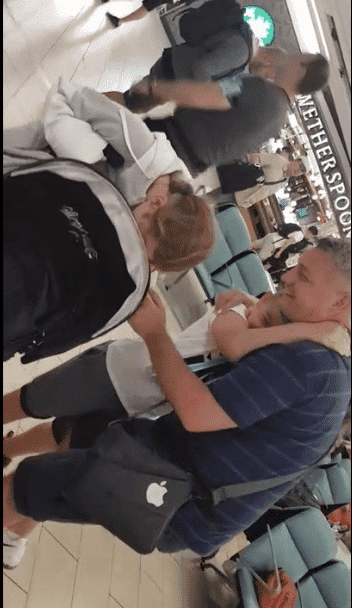 Source: YouTube/NEWS TV
THE REASON WHY THEY WERE SO HAPPY
It was later revealed that Laura and the children's father are divorced for eight years and that most of the times when they go on vacations, they took their children separately.
For that reason, it was so special and shocking for Callum and Darcie to learn that their father would join them and their mother in their vacations to Cyprus. Their parents prepared the surprise for months and were glad about how it all resulted.
ANOTHER SIMILAR ENCOUNTER
Malcolm Cobrink, 88, is the father of 53-year-old Matt, who has down syndrome. The latter flew from Los Angeles to New York to meet his favorite baseball player, Aaron Judge. Unfortunately, Malcolm and Matt had to spend one week apart from each other, and it represented the first time they would do so in 25 years since Matt's mother died.
SHOWING HIS LOVE
Marcy, Matt's sister, knew that her brother had missed his father a lot, so she decided to record their encounter, and the clip went viral in no time. It showed Matt overwhelmed with happiness.
He ran to his father, hugged him, and kissed him several times. Malcolm even joked saying that Matt needed to shave his face as his stubble was scraping his face.
Please fill in your e-mail so we can share with you our top stories!