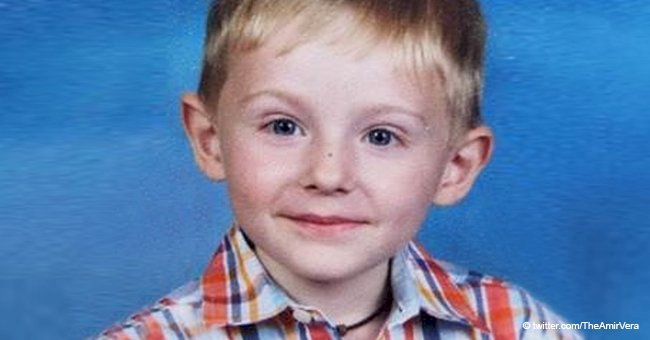 A body believed to be 6-year-old Maddox Ritch was found
The body of a boy was found in North Carolina. The case is still being investigated, but authorities believe it is Maddox Ritch.
Ritch, a boy, living with autism, went missing over the weekend at Gastonia Park. He was running ahead of his father. Ritch Sr. said:
"I couldn't catch up with him. I feel guilt for letting him get so far ahead of me before I started running after him."
A spokesperson said that they don't have answers yet and the investigation is still in progress. Read more on our Twitter account, @amomama_usa.
Maddox's parents searched for him for more than an hour and called the police to assist after they had "searched everywhere."
His family, friends, and authorities had been searching for six days when and the search came to an end earlier today with the discovery of the body.
The announcement was made by the FBI on Twitter. According to their statement, the gruesome discovery was made on Marietta Street, and Old Dallas Highway in Gastonia.
Maddox's parents had been notified. Investigating officers were also looking for a "young white man" who may have had information about the child's disappearance.
He was using the boat ramp at the time and had "backed his truck in and appeared to be loading up his silver kayak."
It had been a hard week for Maddox's parents, dealing with the uncertainty of their son's fate, and his father said that the days had "been torture."
He couldn't eat or sleep while his son was missing and was "just worried about getting my little boy back" safe and sound.
His mother added:
"Maddox is my whole world and my reason for living. He's mama's boy."
Due to his autism, Maddox was non-verbal, and the search team had to research the boy's likes and dislikes to try and retrace his steps.
A popular method is also to use sounds familiar to the child, such as the voice of favorite cartoon or film character, or even a song.
The need for training officers was noted when an officer with autism realized this his colleagues didn't have the skills to deal with people with autism.
The now-retired Brian Herrit taught first responders how to develop a profile for a missing child, and imparted the skills they would need to locate missing children with autism.
Please fill in your e-mail so we can share with you our top stories!