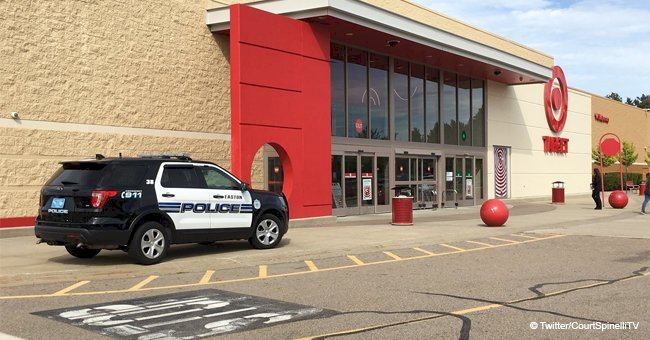 Parents 'forgot' their 17-month-old child in a shopping cart at Target
A 27-year-old Maine woman is being charged after she "forgot" her toddler in a Target in Easton. The incident occurred Saturday, September 22, 2018.
According to Meaww, At about 1 p.m., someone discovered the 17-month-old boy unattended in a shopping cart at the department store on 41 Robert Drive.
The concerned citizen called the police and then remained near the child until the officers arrived.
Follow us on Twitter for more @amomama_usa.
Easton police and firefighters evaluated the apparently unharmed child. Afterward, they took him to Good Samaritan Medical Center in Brockton for further check-ups.
A witness informed police that two adult females, as well as two adult males, were with the child inside the store before they later found him.
The officers looked at video surveillance which confirmed four adults exited the parking lot driving a Toyota SUV with Maine license plates.
At 2:07 p.m., they answered a call from a man who said that the little boy was "accidentally" left at Target.
The man further divulged that he was currently at Plymouth with the boy's mother and they would be coming back to Easton to collect the child.
Perdue later told detectives that after she and her friends exited Target, she entered the vehicle with the belief that one of her friends would place her son in his rear-facing car seat.
The child remained in the shopping cart behind the vehicle as Perdue drove off.
When she got to Plymouth, her friends had left in another vehicle. She believed her son had been sleeping, but that's when Perdue realized her son was not in the seat.
Deputy Police Chief Keither Booth informed the Enterprise:
"She assumed the boy was sleeping. When she got to Plymouth, she realized the car seat was empty."
Perdue, who resides in Acton, Maine, is facing charges of abandonment or endangerment of a child and will be summoned to court for her actions despite it being an accident.
"Whether it was an accident or not, she still endangered the child."
In July 2018, another woman claimed to have simply "forgotten" her child in a hot car, leading to Aiden Miller's death.
The baby's father, Aaron Turner, was heartbroken after the three-month-old child was left by his ex-girlfriend in her workplace's parking lot for hours instead of being taken to daycare.
The Albany woman had another child, a two-year-old, with Turner. The incident left Turner with a determination to help stop these types of incidents from happening.
Back in April 2018, still another child's parents forgot their intended daycare trip and went straight to work.
The man's 10-month-old child, left in 85-degree temperature, succumbed to the intense conditions and was declared dead in the South Carolina hospital.
Please fill in your e-mail so we can share with you our top stories!