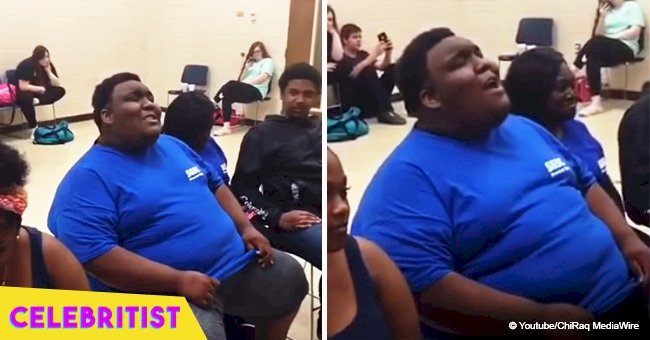 Teenager stuns the Internet with his rendition of Rihanna's 'Diamonds'
High school student, Willie Spence, shot to fame after his mind-blowing rendition of Rihanna's "Diamonds" went viral.
He joined a long list of talented folks, including singer Gwen Stefani, who have paid homage to Rihanna's hit tracks over the years.
Spence's viral video starts with him belting out the lyrics to the favorite song. "Shine bright like a diamond," he sang, surrounded by a couple of his mates listening intently.
Sitting comfortably in a blue T-shirt and grey shorts, Spence seemed to find the task effortless, proof that his talent is indeed genuine.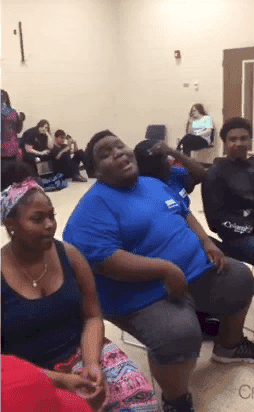 YouTube/ChiRaq MediaWire
One teenager flanking him to the left can be seen nodding to the musical tunes. "I saw the light inside your eyes oooh," Spence piped, before signaling for his colleagues to pick up the chorus.
They did not fail too, as the designated singers burst into song, complete with percussion and backing vocals.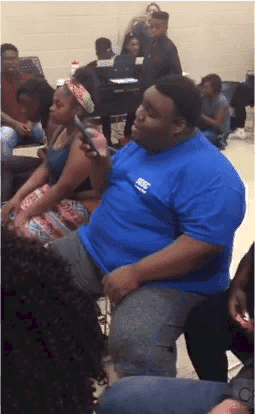 YouTube/ChiRaq MediaWire
Spence's voice kept the small audience captivated and soon attracted more students who filed into the sports hall at Coffee High School. More than one student was caught filming the performance.
Spence's ability is truly exceptional because, at one point, he motions for a colleague to hand him a phone with the song's lyrics, yet doesn't miss a beat in his delivery.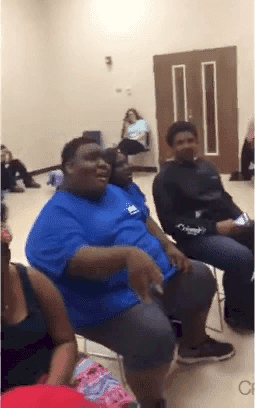 YouTube/ChiRaq MediaWire
The video went viral almost immediately it was uploaded on social media.
The clip had amassed over ten million views, and Spence confessed to being overwhelmed at the internet's reaction to his singing.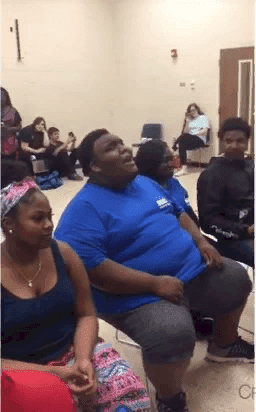 YouTube/ChiRaq MediaWire
The high school student was even more shocked when rap legend Snoop Dogg shared his video on Twitter. An ecstatic Spence tweeted:
"I will never forget this day! I'm so glad I decided to sing this song 'Diamonds' by Rihanna."
HUMBLE BEGINNINGS
When Spence scored his first performance 'gig' to sing "Amazing Grace" at his grandfather's church, the then six-year-old could not have imagined he would one day become a global sensation.
Thanks to the internet, Spence got a rare opportunity, and since then, has been trying to make the most of it.
The teenager assured fans that he would release a professionally recorded cover of his breakout act.
A FIRM RESOLVE
Despite getting bullied for his weight, Spence remains focused.
His message to the naysayers:
"The haters and the negative ones... they make me want to strive more and more each day! ...I know I'm big, but you know what? I'm working on myself and it's a working progress!!! I love myself and my dream too much to just give up and I won't give up!"
A CELEBRITY FAN
As it turns out, Spence is not the only "Rihanna" admirer. Fellow singer, Gwen Stefani also lent her vocal abilities to an electrifying performance of Ri Ri's "Umbrella."
Stefani thrilled her Las Vegas audience with the number in June and went as far as "adding a rock flair, switching up the melody and standing afront her backup dancers, who worked on a dance routine with actual umbrellas."
RIHANNA'S LEGACY
The Barbadian singer's 2012 song, "Stay" was also covered brilliantly in 2013 by YouTube singing sensation, Rebecca Black.
Black, the singer behind the viral "Friday" track, collaborated with guitar maestro, Dave Days to produce a stellar rendition of Rihanna's original that now has over one million views.
Please fill in your e-mail so we can share with you our top stories!