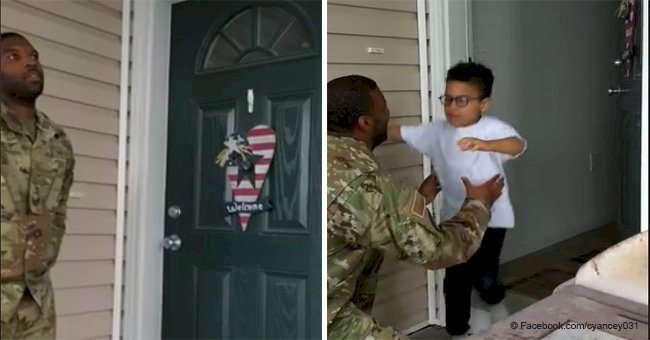 Deployed father returns home to surprise his little son (video)

A serviceman's duty had him far away from home for months, missing his wife and child. When he surprises his boy by showing up at the doorstep, the child reacts in a way that will bring everybody to tears.
On July 27, 2018, US Airman Cameron Yancey shared a video of his surprise homecoming on his Facebook page that wouldn't leave anybody indifferent, as it shows how much these men and women sacrifice for serving their country.
"Surprising the kid. Back in Alaska. He didn't know I was coming home," Yancey captioned the heart-melting post without imagining he was going to attract so much attention. Read more on our Twitter account @amomama_usa
In the short clip, Yancey can be seen wearing his Air Force camouflaged uniform as he anxiously waits for his home's door to be opened, like he was just a stranger knocking at the door behind which his wife and his son live.
As he hears someone approaching from inside the house, Yancey crouches to meet his 5-year-old boy Cade, who according to the carefully executed plan, opened the door, never expecting it was going to be his father knocking.
Cade immediately jumps to his father's arms as he screams for his mother to "let her know" Yancey has returned, and the man and the little child share the most touching embrace.
"I missed you! I missed you, Daddy. I missed you!" Cade repeatedly says. After the initial shock, the infant started to cry, overcome by emotion. We can all relate to what he is feeling, and it is difficult not to shed a tear when seeing his reaction.
In the two months since it was published, the video of the father-son reunion has received 11 million views and has been shared 170.000 times.
"This just made me tear up. Absolutely beautiful moment. N god bless u dad for serving our country."
-Janice Amnhong, Facebook, September, 2018.
The military men and women that serve their country far away from home know that it is their children who most suffer from their prolonged absence. That is why they often make great efforts to make their family reunions special.
Sgt. Gustavo Claudio conspired with the officials from the school where his wife Barbara teaches, and where his two children go to school, to surprise the three of them at a staged assembly specially planned for the emotional meeting.
Men and women deployed abroad not only have their partners and children to reunite with. They also might have siblings who look up to them and wish they could be present at the milestones of their lives.
This is why 20-year-old US Marine Corps Lance Corporal Eric Freedman traveled back home from his service in Afghanistan in secret just in time to surprise his sister Jessica on her college graduation day in June 2011.
The entire audience at the Cal Poly University in San Luis Obispo, California stood up to give the brother and sister a heartfelt applause, in an incredibly touching moment.
Please fill in your e-mail so we can share with you our top stories!