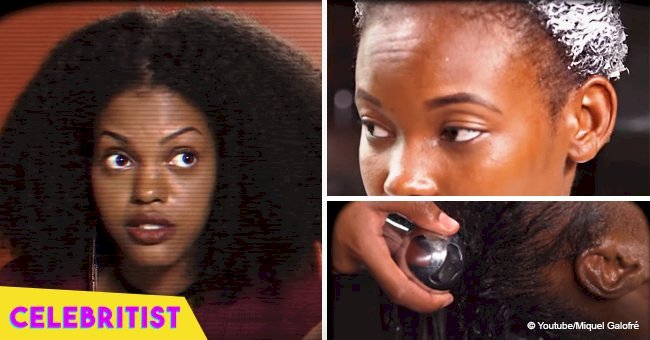 Video of 'Caribbean's Next Top Model' contestant who is forced to relax her hair goes viral
Gabriella Bernard is an aspiring international model that took part in the last season of "Caribbean's Next Top Model.". In the show, the girl was asked to straighten her curly hair with chemicals, and while she refused at first, she eventually accepted. However, she got a big scolding from the show's host.
The young woman, now 24, is asking former Miss Universe and executive producer of the reality competition, Wendy Fitzwilliam, a public apology for the way she was treated on the show, which was filmed in Jamaica last year but was aired on television earlier this year.
In a clip that has gone viral, months after the competition ended, Bernard can be seen trying to reason with the stylists of the show while on a salon, asking them not to relax her natural hair with chemicals because her hair was part of her brand.
"Please do not relax my hair," Bernard is seen pleading. And added:
"Because I had it relaxed for fifteen years and my brand is about embracing your natural beauty. I'm ok with texturizing my hair once my curls stay intact. You need to understand my hair is my identity, people seek me out just because of my hair."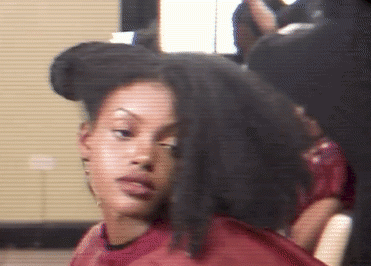 Source: YouTube/Miquel Galofré
Bernard said she had to stand her ground and admitted that she would rather leave the show because she didn't put the chemicals than do the compounds and stay. However, it seems like the young girl had a change of heart, as the clips then show her going through the chemical process.
FACING THE JUDGES
She loved the result, but the damage was done already. When the time came to meet the judges, Wendy Fitzwilliam, international photographer Pedro Virgil and Caribbean fashion expert Socrates McKinney, Gabriella was slammed by the former Miss Universe.
Fitzwilliam considered Gabriella's behavior "naughty" and "unprofessional." The girl apologized, but also explained her position, saying that after 15 years with straightened hair, she made the transition to natural hair and started loving herself even more.
"We live in a world where the media tells us that we need to have straight hair to be accepted," she said. Fitzwilliam agreed with the girl, but continue to talk her down by stating that, in the real world, her attitude could have gotten her fired instantly.
"As a young and upcoming model, as a young and upcoming attorney facing the judges and senior counsel, you have to be professional," said Wendy. "Shutting down my salon, creating that mayhem, when there were so many other young women to get done and to look fabulous as well, it's a loud non-starter."
FACING THE AUDIENCE
People all over the internet reacted immediately to the show, sending their support to Bernard and asking her why didn't she leave the show and instead chose to go through the straightening process. The model explained in a recent interview with Trinidad Express that, at the time, she had to weigh in her options.
She had reached that far in the competition and had nothing waiting for her at home, as she had quit her job to join the competition. She said:
"I had a conversation with myself, and I said if I go home what am I going home to? Because I left my job to go on the show. I put in my application on the Thursday, and by the following Thursday I was flying out. I told myself that I had already reached this far and this was something that I wanted so much."
Bernard ended up in the third place of the competition. After leaving the competition, she shaved her hair and let it grow naturally, and meanwhile, she created a short film called "Black Hair" inspired by her experience on the show.
FACING THE AFTERMATH
When the clip of the makeover exploded on the internet, Bernard started to get messages of support from people all over the Caribbean that consider Wendy's behavior towards the girl's struggles was disrespectful and condescending.
Gabriella agreed as she told Loop:
"Initially I wanted her to apologize and admit that she was wrong about how she went about what she did. Because in retrospect, if she had agreed with me as she said and given me a wig, both of us would have come out on top afterward. But you wanted to make it seem as though you are the queen, the mother, and anything you say goes because you're big, I'm small, you're strong, I'm weak…even the way she spoke to me was very condescending."
Fitzwilliam has not addressed the issue directly.
The controversy comes after America has been facing a series of issues with kids being kicked out of their schools for their hairstyles. Primarily African American kids that were rocking braids, dreadlocks or even a high fade top haircut.
Please fill in your e-mail so we can share with you our top stories!