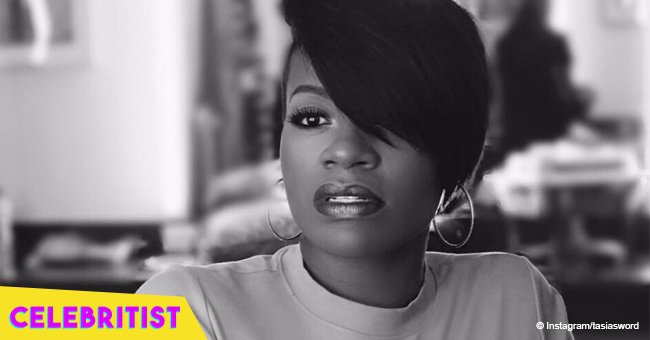 Fantasia Barrino flaunts curves in plunging black velvet outfit in recent picture
Fantasia Barrino looks stunning in a recent pic shared to her Instagram, flaunting her curves and slim figure in a classy outfit. The R&B singer recently reminded the world of her powerful vocals after her fantastic performance at Aretha Franklin's funeral.
The "American Idol" alum went through an incredible transformation in the past two years after losing a considerable amount of weight and gaining a much slimmer and toned body. Even though she's never been afraid of showing off her curves, Barrino looks more confident than ever in the last months.
In one of her recent Instagram pics, Fantasia looks astounding wearing a velvety black jumpsuit with broad shoulders, a plunging neckline and silver details on the shoulders. She accessorized the look with long white nails, some rings, silver hoop earrings, and a black clutch.
The singer seems to be standing in the middle of a dressing room while looking off camera, giving a gorgeous side profile to the lens. "RockSoul," she captioned the picture, referencing the title of her last musical material.
Fans of the soul singer took over her comment section to gush about her beauty. One wrote "It's so nice to see your growth over the years. Every time they tried to bury you-you kept moving forward," and another added, "You look beautiful. I can see the hard work & confidence in your face & body. It's like you are saying, "Bring It!" Ur voice is everything."
FANTASIA'S TRIBUTE TO ARETHA FRANKLIN
Just a few weeks ago, Barrino impressed people for a very different reason. This time around, she was reminding a nationwide audience the reason why she became the winner of "American Idol" all those years ago and why she's considered one of the best younger voices in the R&B industry.
Barrino and many other artists, family and friends, reunited to give their last goodbye to the Queen of Soul, Aretha Franklin, and Fantasia did it by making a beautiful rendition of the late's singer hit "Precious Lord, Take My Hand/You've Got a Friend."
"And I hope she doesn't mind, I don't think she would, but I think I'm gonna come out of my shoes," the Grammy Award winner told the audience before going barefoot to deliver the tune and put the entire congregation on their feet.
People all over social media were also impressed with the singer, as they realized how underappreciated Fantasia is the industry. Read some of their tweets below:
The loss of Aretha affected Fantasia on a personal level, as she expressed on a tweet she wrote the day the singer died, which said:
"This woman played a BIG part in my life. She played a genuine role in my life similar to how my Grandmother was very dear to me. I'll never forget the talks we shared together. Auntie, kill the choir up there in Heaven & know that your Music will last forever."
Franklin knew Fantasia could sing and she encouraged the girl when they first met back in 2007, but she also left her clear who was the Queen B of the R&B. As Fantasia recalled to Billboard, saying:
"She walked around the room gracefully, as Aretha would do – very smooth. She shook hands, gave people one or two words and kept it moving. She finally gets to me, and she looks at me – I'm still crying. And she said, 'You can sing – but I'm the [expletive] round here.' I'm thinking, 'Wait a minute! That's not what I was ready for!' But she was serious."
Barrino concluded saying that there will never be another Aretha and she wanted people to be aware of that.
Please fill in your e-mail so we can share with you our top stories!