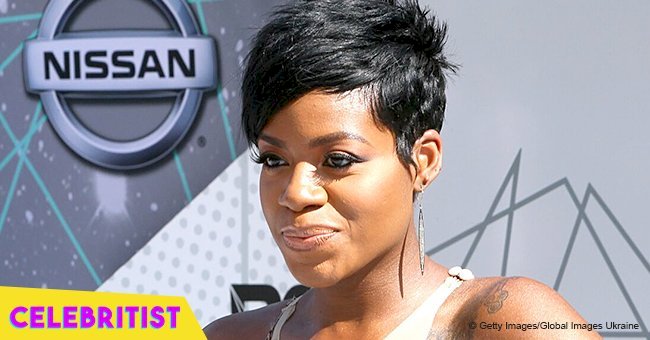 Fantasia Barrino flaunts slimmer curves in tight black dress in pic with a 'great minister'

Fantasia Barrino put her slimmer curves on display in a fitted black dress as she posed next to a "great minister." The Soul singer once opened up about her weight struggles and revealed how she overcame them.
Barrino stunned in the form-fitting black dress that featured a matching cape. She accessorized with a black fascinator, stud earrings, and a black clutch. To her left was Louis Farrakhan, identified on his Instagram bio as "The National Rep. of The Most Honorable Elijah Muhammad and the Nation of Islam."
It's hard not to notice Barrino's slimmer curves, considering how her weight has fluctuated in the past and how she one confessed to struggling with body acceptance.
THE STRUGGLE
In August 2016, the 2004 "American Idol" winner shared how it felt to be thrust into fame with a body that didn't fit the industry's standards.
"I will say, being a 'real black woman' with big lips, wide nose, short hair, a big ol' booty and hips, and not what they say a black [celebrity] should be, was kinda hard,"
At the time, Barrino had already experienced a lot of pain in her 20 years. She had been raped in high school, dropped out, and was caring for her daughter Zion who she gave birth to at 17. So, to be faced with uncertainties about her body was one more blow to her battered self-esteem.
THE VICTORY
Rising above the pain was not easy, but Barrino did, dedicating her 2016 song, "Ugly" to every woman going through similar circumstances. The mother-of-two declared proudly:
"But now I'm like, 'Chocolate is good!' I accept my big lips – some people are paying for 'em! I don't knock anybody for what they do. But for me, I'm just at that place where I'm good. I'm a woman now. I wouldn't change a thing."
In September 2016, the "Bittersweet" singer also took to Instagram to flaunt the results of her weight loss in a series of photos and videos.
THE PERFORMANCE
Meanwhile, Barrino's photo with Farrakhan seems to have been taken last month at Aretha Franklin's funeral where the singer delivered a soul-stirring rendition of "Precious Lord, Take My Hand (You've Got a Friend)."
Footage of Barrino's barefooted performance quickly went viral with some internet users declaring it the best of the event.
Please fill in your e-mail so we can share with you our top stories!