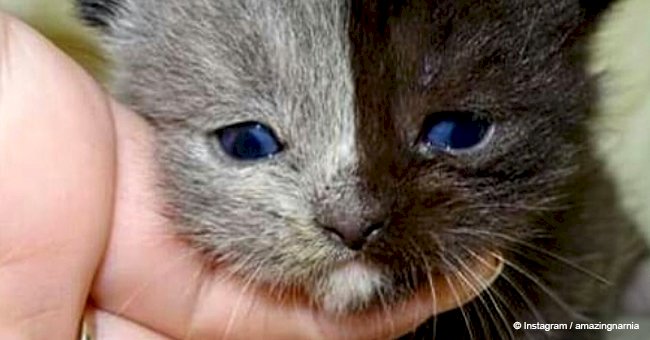 Rare kitten with 'two faces' turned into the most beautiful cat that you could ever see
Meet Narnia, the beautiful two-sided cat that is sweeping on Instagram.
Social media have helped such beautiful phenomena of nature, as these "two-sided cats", become known. For many, this will seem new, but the truth is that it is a little more common than we imagine.
According to Bored Panda, although it is speculated that the cause of this difference could be the fusion of two different fetuses at some point of gestation, the truth is that this phenomenon is known as "chimera".
This phenomenon has no exact explanation yet, but it occurs when a cat contains 2 types of DNA because of fused embryos, which results in this strange and beautiful coat. Read more on our Twitter account @amomama_usa
The best example is Narnia, this beautiful cat has one half of his face gray and the other half black. Both colors, along with the spectacular blue eyes of the pussycat, make this cat a unique animal and an Instagram star.
Narnia was born in France on March 28, 2017. The first to fall in love with him as soon as she saw him was his owner, Stéphanie Jiménez. To this day, anyone who contemplates his eyes and the perfect symmetry of his face's two halves falls at his feet.
Now, we know that like cats they have seven lives they can be with two faces. Whatever it is, the fact is that this cat and its two halves have fallen in love with everyone.
Another cat that has stolen our hearts is Herbie. He is a street cat who was saved by a family from getting euthanized and repaid the favor by saving the life of the family's young daughter.
Herbie jumped off the bed and walked toward the door, only to stop there for a while and turn around at his owner. The mother realized then that the cat wanted her to follow him.
The cat then led the woman to her baby daughter's room. She opened the door of the room and walked in to discover a frightening scenario.
Please fill in your e-mail so we can share with you our top stories!