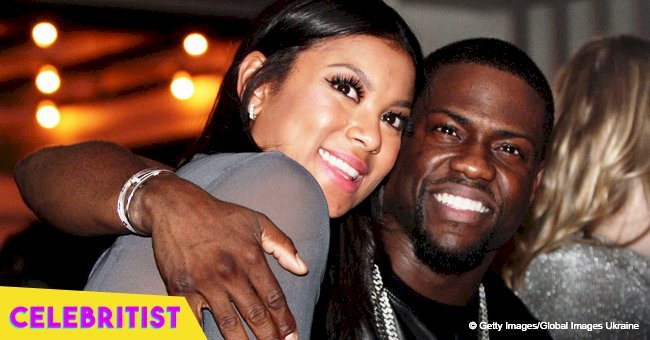 Kevin Hart spills details on how wife Eniko forgave him after cheating scandal

Following his cheating scandal nearly a year ago, comedian and actor, Kevin Hart recently opened up about his wife's role in saving their marriage. Kevin also explained why he describes himself as an "amazing" husband.
Last December, Kevin took to Instagram with a public apology to his wife, Eniko Hart, for what he called a "bad error in judgment." Someone was allegedly trying to extort him using a sexually provocative video involving the actor and another woman.
Two months after the embarrassing episode, all seemed back to normal as Kevin and Eniko welcomed their first child together, son Kenzo.
In an interview with People, Kevin, who is currently promoting his new movie "Night School," admitted his folly in the scandal.
"Our marriage has been put to the test," he said. "And, you know, sometimes those tests come from stupidity. But it's how you handle it, and how you decide to move forward from it."
The "Jumanji" actor commended his wife for her reaction, one which he still found unexplainable:
"I applaud my wife for just displaying a high level of strength that I can't even explain. I applaud her for being my backbone, my support system, and more importantly, taking my life to the next level."
THE AFTERMATH
Kevin further implied that the controversy strengthened his relationship with Eniko, disclosing, "the friendship we have is like no other."
"When you get to a point where you're that open," the 39-year-old dad-of-three began. "And you're that understanding, and knowing of one another, the word 'friendship' is a real word, you know, that word 'best friend' is a real word."
THE SILVER LINING
In a statement that may seem at variance with his unfaithful past, Kevin described himself as an "amazing" husband. But the movie star, who has two other children from a previous marriage, insisted: "I am amazing because I get it now."
THE LOCKDOWN: TRUE OR FALSE?
Following the incident, there were rumors that Eniko, 34, put Kevin on lockdown and got him to agree to a "lifelong curfew." An insider allegedly said:
"It's a curfew that has no expiration date and he's signed up for it because he had no choice. Those were her terms for not leaving him."
However, the rumors were shut down by Kevin's rep who told Gossip Cop exclusively that the speculations are "100 percent false."
RECONCILIATION CHILD?
Meanwhile, it looks like Eniko is genuinely over Kevin's cheating. The pair celebrated their second wedding anniversary last month, and the actor revealed Eniko wants another baby.
Despite his initial apprehension the idea, Kevin said he's on board with whatever his wife wants. The only thing he won't do: "I'm not changing no diapers."
Please fill in your e-mail so we can share with you our top stories!