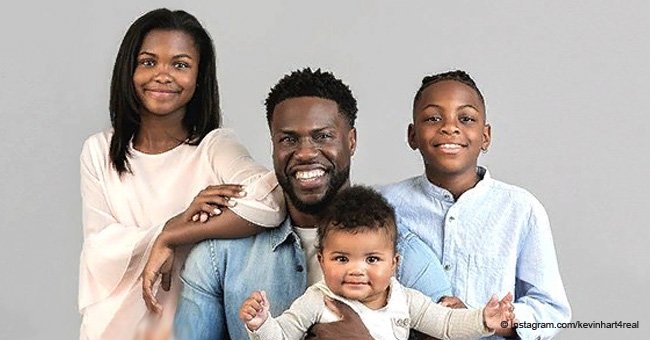 Kevin Harts' 3 children rock matching swimsuits in picture by the sea

Kevin Hart was pegged as a "corny dad" after his three children were spotted wearing matching outfits during their recent family vacation.
After posting numerous photos of their family on the beach, Eniko Hart made sure to showcase the adorable matching swimsuits of their children. While matching might seem like something a mother would like to do, Kevin Hart takes full responsibility for the idea of dressing his kids in the same clothes. In the caption of one of his recent posts on Instagram, he wrote:
"P.S. yes I'm that corny dad that makes us match on vacation"
In the shot were Kevin and his wife Eniko, his two children from a previous marriage, 10-year-old Hendrix and 13-year-old Heaven. They also included some pigs in the snap, saying they were in "Pig Island". While their baby boy Kenzo Kash wasn't present during their photo op with the animals, he could be seen in other photos of their vacation which confirms he was most probably there, too.
On the same day, Eniko also posted an adorable snap of their children in the same matching bikinis, saying that her heart is full seeing them enjoying themselves together.
Their recent trip was in celebration not only of summer vacation but also of the second anniversary of the Hart couple's marriage.
While Kevin found himself in the middle of a controversial cheating scandal while his wife was pregnant with Kenzo last year, he has made it clear that the couple has since then moved on and are trying to better their relationship. To pay tribute to his lovely wife, Hart made sure to express his heartfelt gratitude for her understanding and patience.
Analyzing his message which started with "what's understood doesn't need to be said", people saw it as him acknowledging his past mistakes in their marriage. Despite this, he reveals that at the end of the day, the couple has each other's backs.
"You get me & I get you... I'm glad we GOT each other!!!! Love u to the moon & back. Happy anniversary @enikohart #Harts"
To show off their love more, he posted another tribute for Eniko, this time a throwback video of them happily dancing to "If I Ain't Got You" by Alicia Keys, which happened during their wedding.
Now that they are celebrating their anniversary, their beach getaway with the rest of their family has made the perfect gift. After all, the gift of family is something deeply treasured, and something immeasurable. Happy Anniversary, Harts!
Please fill in your e-mail so we can share with you our top stories!