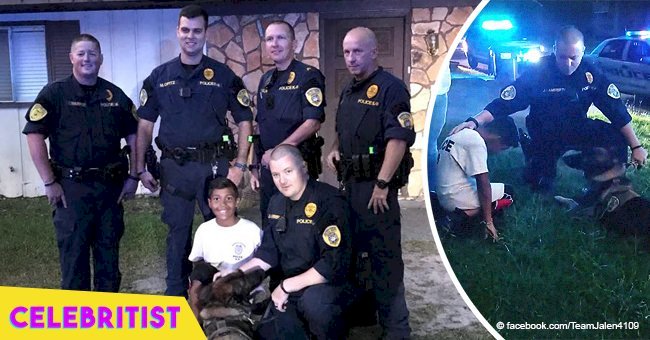 Touching video of police officer & K9 praying for 9-year-old before his surgery goes viral
A young boy who loves German shepherds gets a surprise visit from police officers and their K-9's right before his brain surgery. In a video that's gone viral, one of the policemen has an emotional moment with the 9-year-old and a K-9.
A 9-year-old boy with a brain tumor and who loves German shepherds got a surprise visit from police officers and its K9's the night before his surgery. In a touching video that's gone viral, one of the officers is seen kneeling with the boy and praying with him along with his K-9.
News of Jalen Mann's tumor reached the Warner Robins Police Department when his mother, Hannah Manns started a page on Facebook sharing Jalen's story and hoping to get help on how he could cope. She also set up a GoFundMe page to raise money for his surgery.
When Hannah mentioned on Facebook that Jalen's favorite animal is a German shepherd, many people responded by sending Jalen stuffed animals. However, the WRPD wanted to do something more special. They coordinated with Hannah so they could pay Jalen a visit in the morning before he left the hospital for his surgery.
At 6 am, around six officers arrived at the Manns' home and brought Jalen gifts. They also introduced Jalen to all of their K9's outside before one of the officers knelt down beside the boy along with one K9 and said a prayer. Tearfully, the officer prayed,
"Lord heavenly father, we just come to you now, Lord God, asking for your words of encouragement and strength today."
After their emotional prayer, the officers escorted Jalen to the hospital and even "walked him around the hospital to get him settled," Hannah told CBS.
By noon, Jalen's surgery began. The officers promised to follow up on him and redo what they did prior to Jalen's surgery.
Meanwhile, an 8-year-old girl at a restaurant in San Antonio did the opposite and led a group of policemen in praying for their safety. Paige Bosquez was dining with her aunt when she approached the group of policemen in another table. She asked if she could pray for them and they obliged by bowing their heads and praying with her. Paige's aunt took a photo of the touching moment and posted it on Facebook where it went viral.
Please fill in your e-mail so we can share with you our top stories!