Father and baby daughter make the cutest video that will melt your heart
A father-daughter duo has gone viral on Facebook after the adorable little girl sang with her father in front of a bathroom sink. 
The video, which has been shared on Facebook over 44,000 times, shows baby Keeton standing on the counter in front of her dad, Richardson. 
The girl is wearing a pink onesie dotted with brown giraffes. Still in her PJ's, she sang her heart out to the classic Temptations song, "My Girl." 
Follow us on Twitter for more @amomama_usa.
Richardson starts off with the popular first line of the song: "I got sunshine, on a..."
When he paused, Keeton continued the line by singing "Cloudy day" with enthusiasm.
Her dad went on: "When it's..." and right on cue Keeton stepped in with "cold outside." 
The little girl seemed to know all the words to the song. She then sang the bridge as her father proceeded to move her arms around and assist her with a cute dance.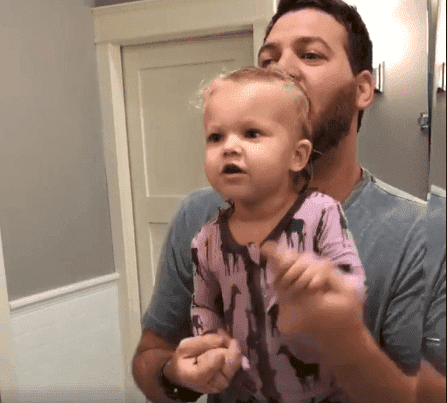 Towards the end, Keeton took over fully while her dad plays around with her arms. She sings the line "My Girl" repeatedly until the video cuts off. 
In the clip, Richardson proved himself to be a wonderful father. According to science, this might be great thing for his daughter's health.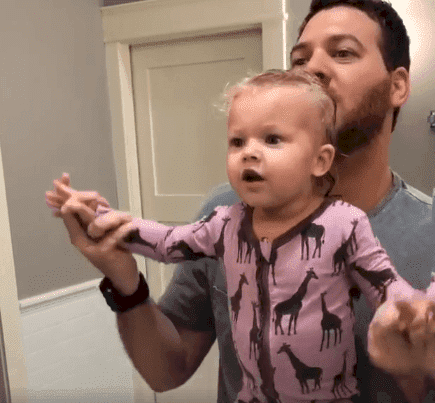 A
Princeton University
study of 5,000 young people concluded that the loss of a father at a young age could increase one's risk of health complications later in life. 
Additionally, a Pennsylvania State University study in 2012 showed that children with fathers who are more involved in their lives tend to have higher self-esteem. 
Another father-daughter duo was so heartwarming that they were invited to the Ellen DeGeneres show back in May 2017.
There, 4-year-old Claire Crosby and father Dave sang Phil Collins' hit song "You'll Be In My Heart." It was featured in the popular Disney film "Tarzan."
The song was actually written for Collins' daughter, Lily Collins, making it especially appropriate for the pair. 
Source: YouTube/ TheEllenShow
In March 2018, now 5-year-old singing sensation Claire Ryann Crosby partnered again with her father Dave, who is a singer himself. 
Source: YouTube/ Claire and the Crosbys
The two starred in an inspiring music video, which now has over three million views, titled "Peace in Christ." Both father and daughter showed their incredible talents in the endearing video.