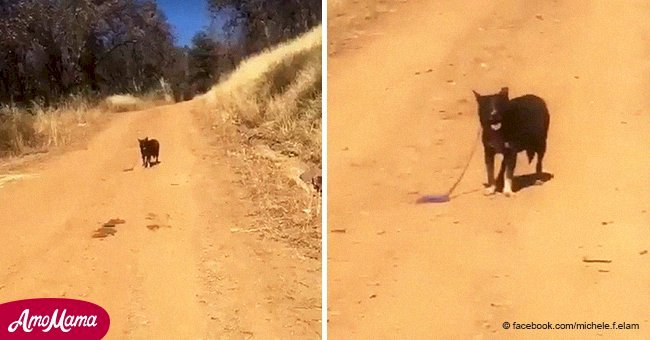 Lonely dog on the road helped save a human life
A dog's plea for help on a lonely road saved his owner's life.
Tow truck driver Martin Hall Jr. was having a bad day. He'd driven out on a call to a remote location only to have the job fall through.
Then, while driving back, he'd come to an unexpected fork in the road. Uncertain of which direction he should head, he picked one of the turns by chance.
His decision was to make him a hero and save a man's life. He filmed the incident as it unfolded and the video posted on Facebook where it is quickly going viral.
"I didn't know which road to take, so I just picked one. That's when I noticed there was a dog just laying in the center of the dirt road out in the middle of nowhere."
A DOG REFUSED TO MOVE FROM THE MIDDLE OF THE ROAD
Hall assumed the dog was lost because it was trailing a leash so he tried to tempt it off the road with a sandwich but the animal refused to budge.
After a while, Hall gave up, got back into his tow-truck and started to drive away, leaving water and food for the lost dog.
SOMETHING MADE HALL TURN AROUND
Uneasy, Hall stopped the truck and got out once again, and that was when he discovered the reason for the dog's bizarre behavior.
A MAN WAS IN DANGER, WATCHED OVER BY HIS DOGS
An older man was lying off the side of the road, watched over by a second dog. He had been walking his dogs when he had fallen and injured himself.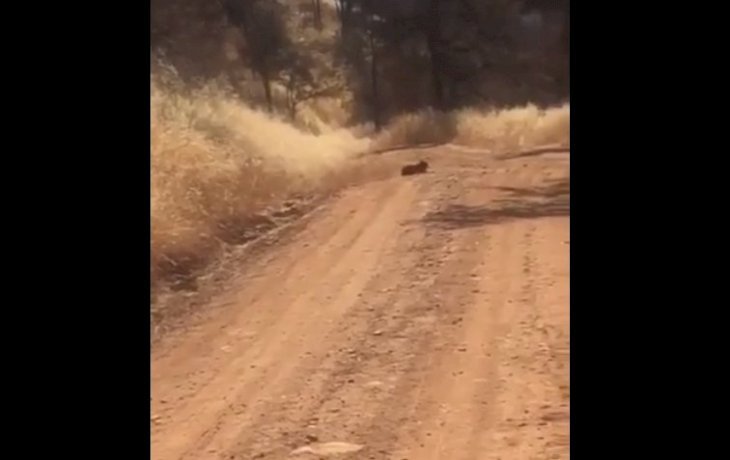 Source: Facebook /michele.f.elam
SAVED BY HIS RESCUE DOGS
Hall called 911, and the man was taken to hospital for medical assistance. He later discovered that the two animals had been saved by their owner from a kill shelter, and had now - with Hall's help - returned the favor by saving his life.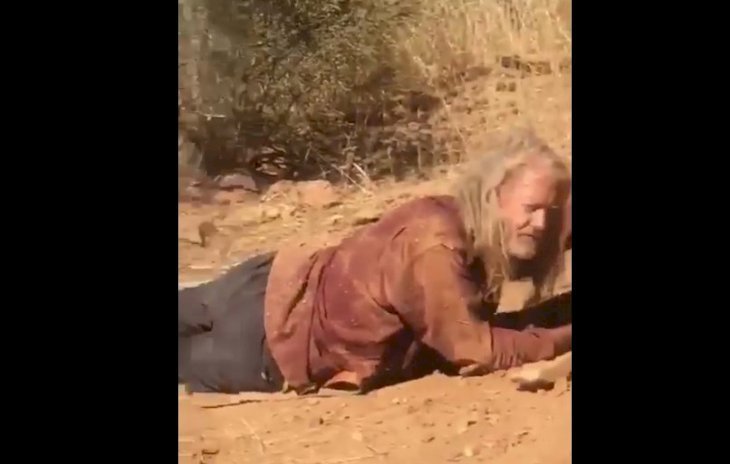 Source: Facebook /michele.f.elam
DOG SAVED OWNER FROM FREEZING TO DEATH
Far from the California heat, another brave dog saved his owner from freezing to death.
Bob, a Michigan man, was alone in his farmhouse on New Year's Eve when he ran out of wood. He decided to dash out the few meters to his woodpile in his long-johns and slippers to get a few logs to get him through the night.
Unfortunately, Bob fell and broke his neck, and was left stranded helpless, in sub-zero conditions a quarter mile away from his closest neighbor.
Bob's five-year-old Golden Retriever, Kelsey, saved his life by lying on him like a living heated blanked and licking his face and hands to keep him awake.
Kelsey kept barking and howling, and 6 hours later Bob's neighbor decided to investigate the unholy row. He called 911, and Bob was taken to the hospital where he was operated on successfully.
Bob was found to be suffering from hypothermia but that Kelsey's ministrations had spared him from frostbite.
In a related story, in Queensland, Australia, a man was saved from a deadly poisonous Eastern brown snake by his dog's selfless courage.
Please fill in your e-mail so we can share with you our top stories!