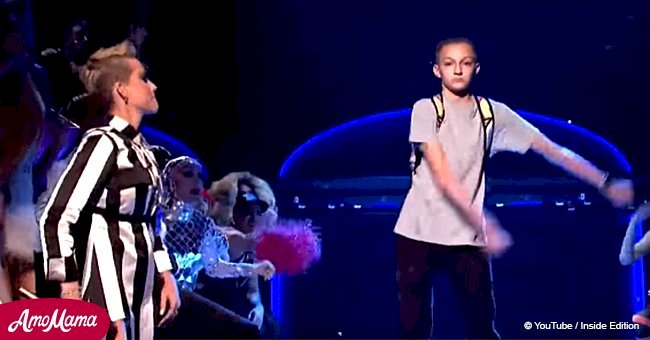 This dancing 'Backpack Kid' once stole Katy Perry's limelight on 'SNL'

After Katy Perry's performance of 'Swish Swish' on 'SNL' the recording goes viral as the boy with the weird moves wearing a backpack steals the show.
15-year-old Russell Horner from Georgia posted a video on August 18, 2016, doing the 'floss dance' on Instagram. The post spread and soon gained thousands of views.
WHAT MADE IT GO VIRAL?
One of Horner's video went viral when Rihanna posted one on social media.
Horner said:
"It was huge, because lots of smaller pages posted it from there, and it went super viral and I got 55K followers in two days."
He admits on Instagram to not being a good dancer, but he does it for fun and is known for his free-flowing dance moves and facial expression.
YouTubers posted similar videos, American Football players made it their touchdown celebration, and Millie Bobbie Brown star of Netflix original 'Stranger Things' posted videos of doing the 'floss dance.'
Another video went viral of firefighters doing the 'floss dance' when they took up a lip-sync challenge. These firefighters from the Greenville Fire Department put together a choreographed lip-sync and dancing video that is a must see.
Katy Perry invited him to be part of her set for her performance on the show 'Saturday Night Live' after noticing him on Instagram.
Horner explained:
"She … saw that I enjoyed doing what I did and liked that about me."On May 20, 2017, he features during Katy Perry's live performance of 'Swish Swish' on 'Saturday Night Live' doing the 'floss dance' closer to the end of the song.His Instagram following surged as they called him, The 'Backpack kid' that stole the show as he wore his signature backpack.
THE BACKPACK
How he got his ever-present backpack was an impromptu trade with a friend:
"My friend had it on and it looked cool and I wanted it. We had the idea to trade right there and then. We were at a shoe store and I only had a (credit) card on me, so I traded a pair of shoes for the book bag. That was a month ago, give or take a few days. I started dancing with it that day,"
When asked about launching his own line of backpacks, he replied:
"I don't think I am. I've known Sprayground for a very long time and I'm trying to only wear their book bags."
Just one of the many untold truths about 'Backpack kid'
Please fill in your e-mail so we can share with you our top stories!