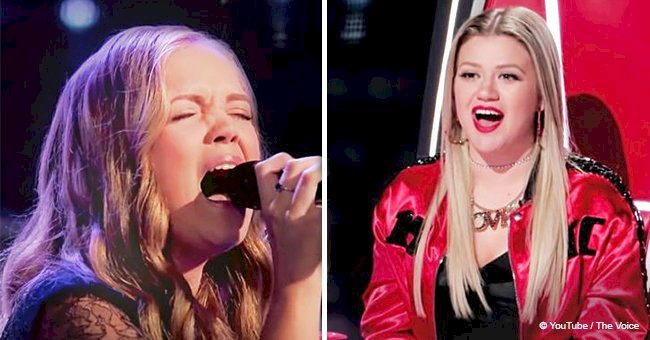 Girl stunned 'Voice' judges with amazing performance of legendary Janis Joplin song
A 15-year-old contestant on season 15 of "The Voice" had the judges arguing amongst each other who she should pick.
For her blind audition, Sara Grace performed Janis Joplin's "Ball and Chain" and proved that dynamite comes in small packages.
Read more in our Twitter page, @amomama_usa. Grace's stellar performance had been viewed more than 1 million times in a few days. The clip can be seen below.
Kelly Clarkson was the first coach to turn her chair around, and later she tried to bribe Grace with a jacket to join "Team Kelly."
Jennifer Hudson and Blake Shelton also wanted Grace on their team and realizing that Kelly was getting the upper hand, Hudson told Blake: "Give her your jacket!"
Clarkson also complimented Grace's style and vocal range by saying that the young singer had "stank face," something that the other judges would not let her live down.
Hudson said that where she comes from, they call it "sassy," not "stank face" and tried to convince Grace to join her team instead.
Clarkson then reminded the other judges that she won season fourteen with the teenager Brynn Cartel. She said:
"I really do want to say, I did actually win 'The Voice last' year with a 15-year-old. I'm just saying, I can do it."
Shelton joking said he would never assume that Grace's face stinks, to which Clarkson replied, "I did not say that, Sir!"
While Hudson and Clarkson compliment Grace on her superb vocal range and talent, Shelton went with a different approach.
He said:
"For me to turn around and see that your 15 years old and you're this tall – you gotta pick me just so we can see the photographs together."
Grace asked Shelton how tall he was, to which he replied 6'4 or 6'5. Shelton would tower over grace, who is only 4'11 tall.
It was a hard decision for Grace, but she joined "Team Kelly" in the end.
Over in France, 24-year-old Tamara Weber-Fillion wowed the judges with her performance of Bob Dylan's "Knocking on Heaven's Door."
Weber-Fillion's mother was observing from the side of the side of the stage, clearly nervous on her daughter's behalf.
Her mother shouted out excitedly "that's my girl!" when the first judge, Mika, turned his chair around, soon to be followed by Zazie.
Read the full story here.
Please fill in your e-mail so we can share with you our top stories!