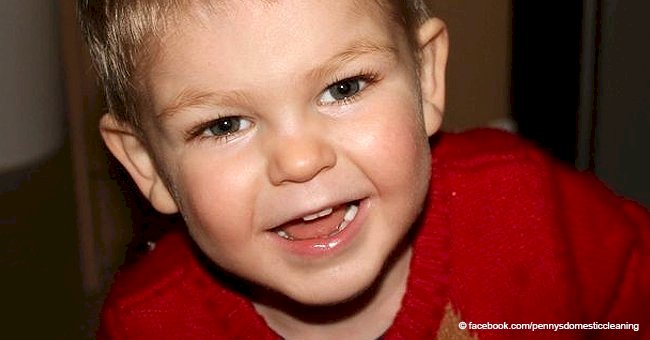 Parents share incredibly shocking photo of son who died after his first day of school
A little boy named Alfie recently passed away from meningitis and now his parents have shared a shocking photo of him lying in his hospital bed to warn other parents.
On September 11, 2018, little Alfie, who was only 4 years old at the time of his death, woke up with a severe rash on his body.
As reported by the Mirror, his parents immediately called an ambulance, but little did they know that their son's condition would cost him his life.
Follow us on our Twitter account @amomama_usa to learn more.
Alfie was very excited to be back at school and he couldn't wait to return the next day. Unfortunately, after getting home on his first day, he started feeling a bit under the weather.
His parents, who wished not to be named, believed that he was catching a cold, so they gave him some medicine and sent him off to bed.
A DISTURBING DISCOVERY
The next day, the purple rash caught them off guard and he was transported by ambulance to Derriford's hospital, where the parents were told that Alfie was in critical condition.
Despite the doctor's best efforts in keeping him alive, the 4-year-old passed away 13 days later, and now his family wishes to warn others about the disease.
AN EYE-OPENER
I order to do this, they shared a particularly shocking photo of Alfie at the hospital, with the purple - almost black - rash covering the great majority of his body and face.
Viewer discretion is advised as the photo may not be suited to be seen by more sensitive people, but it illustrates how devastating this form of meningitis, caused by meningococcal septicemia, can be.
MEDICAL MALPRACTICE
Although rashes can be a symptom of meningitis, they don't always appear, leading doctors to wrongly diagnose their patients. Back in 2016, Layla-Rose, a 6-year-old, passed away after a doctor mistook her rash for a 'bruise.'
According to her mother, Kirsty Ermenekli, a doctor at Royal Oldham Hospital, in England, told her that she was being paranoid and that the girl was only suffering from a viral infection.
Layla-Rose had a big rash on her leg, but to the doctor, who is yet to be named, it was simply a bruise. That 'bruise 'turned out to be caused by the same bacteria that killed Alfie, and Layla-Rose died only eight hours after arriving at the hospital.
Please fill in your e-mail so we can share with you our top stories!