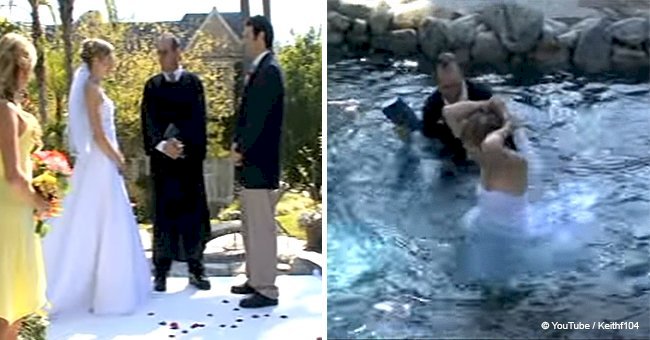 Best man ruined the wedding with just one misplaced step

Watered down nuptials get a new meaning when this unsuspecting bride experiences a ceremonial disaster, of sorts.
Every bride wants their wedding day to be perfect, but sometimes unforeseen events occur that can have one of two outcomes, it can make the wedding, or break it. Either way, it will always be remembered.
The bride and groom are busy exchanging vows in beautiful surroundings; a platform overlooking a sculpted swimming pool amidst a gorgeous garden when the marriage officiant asks for the exchange of rings and things go wrong.
Source: YouTube/Keithf104
Read more on our Twitter account @amomama_usa.
No one saw it coming when the best man stepped forward to present the rings, he takes the step up onto the platform and his foot slips. He falls forward grabbing onto the bride's dress. The bride loses her balance and grabs for the marriage officiant, both the bride and officiant fall backward into the pool.
Source: YouTube/Keithf104
Everyone is seen rushing towards the edge of the platform gasping while the soaked bride and officiant make their way to the side of the pool. The groom and best man rush poolside to help them out.
A wedding ceremony that will not be forgotten. The best man making sure of it through his accidental actions, but sometimes the best man could be seen as going too far.
Source: YouTube/Keithf104
For instance, the best man of another couple, during their wedding ceremony, asked his long-time girlfriend to marry him and announced her pregnancy after bringing proceedings to a halt. They continued the ceremony but hearing the couple's vows over the newly engaged woman's sobs was difficult. It is safe to say that the best man did not do his best.
Source: YouTube/Keithf104
On a lighter note, a bridesmaid and groomsman at another wedding planned a big surprise for the newlyweds. It was a surprise, just not the one they were hoping for. The bridesmaid and groomsman planned to recreate the classic move from 'Dirty Dancing' where Swayze lifts Garner over his head as she jumps up.
The groomsman missed the right placing for his hands, holding the bridesmaid to far back on her body and she topples over, taking them both to the ground.
Bridesmaids and groomsmen making memorable wedding memories in different ways, some being more enjoyable than others.
Please fill in your e-mail so we can share with you our top stories!