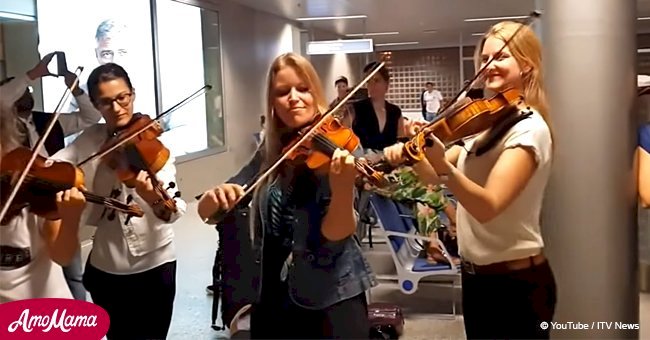 Orchestra didn't lose its grip during a flight delay and entertained passengers at the airport
Stuck at Geneva airport because of a delayed flight at 10:00 pm, the Camerata of Leman Orchestra, gave an impromptu concert. Their fellow EasyJet passengers were delighted by the entertainment provided.
The group who was on its way to Venice played as though they were at the Royal Albert Hall in Kensington, London. They unpacked their violins and played pieces such as 'Winter', a selection from Four Seasons, by composer Antonio Vivaldi.
Every chord was plucked with purpose, and the sound of the violin virtuoso Fabrizio Von Arx resonated through the section of the airport which the orchestra and their fellow passengers occupied for the period of delay.
The performance was recorded by photographer Pascal Bitz. The video went viral when Bitz uploaded it to his Facebook page.
"This is what happens when classical musicians wait for a delayed flight at 10:00 pm."
Pascal Bitz wasn't the only person recording the airport event. Several other passengers had their phones and cameras out recording and snapping as the musicians of the Camerata of Leman gave a memorable performance.
Although it has been a week since the airport concert, it remains relevant and it continues to go viral. There is presently a YouTube video which gives an account of the performance from beginning to end. It also captures the response of the airport audience which absorbed every sound and was enthralled by what may be described as, a once in a lifetime experience for them.
Similar airport situations have occurred. This is evident in the case of the dancing baggage handlers at the Heathrow International Airport who danced in tribute to Freddie Mercury on his birthday. They danced to the hit song by Queens, I want to break free.
This was quite captivating and was certainly an unforgettable experience.
Like the dancing baggage handlers, the Carmarat of Lemon Orchestra has added significance to the beautiful memories of their fellow passengers.
They certainly explored their creativity in passing the time, and perhaps got some added rehearsal time in.
Please fill in your e-mail so we can share with you our top stories!