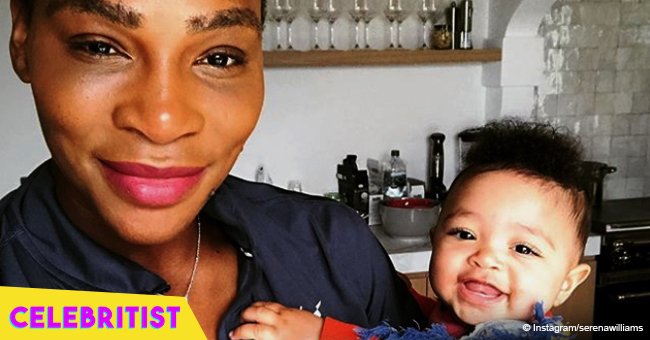 Baby Olympia plays with dad & 'daughter' Qai Qai in video after doll was 'injured'
Olympia Ohanian, Serena Williams and Alexis Ohanian's daughter, was recorded playing with her father and her famous baby doll, Qai Qai.
In the short clip that The Shade Room uploaded to Instagram, the toddler appeared wearing a light shirt and grey sweatpants hugging her baby doll while playing in front of her father.
When Alexis noticed that Olympia was hugging Qai Qai very tightly, he looked at the camera and said "aww," to what Serena said that her daughter really loved her doll.
Later, the girl picked up a little soccer ball, gave it to her father, and kept looking for toys right before the video ended. As soon as that video hit the Internet, The Shade Room's followers took to the comment section to share their thoughts.
One of them was Instagram user @jujubooooo, who revealed that she was mad about following Qai Qai's Instagram account. She pointed out that it was very entertaining, though.
SERENA'S GRANDDAUGHTER
Even though Olympia is only one year old, she has a daughter already. As the official Instagram account of Qai Qai states, she is Olympia's daughter, which automatically makes her Serena's granddaughter.
In mid-September, the tennis player uploaded a photo of Qai Qai with a purple leg cast while standing up with two metal crutches. For the caption, she wrote that if someone was having a rough day, they should remember that her "granddaughter" had an arm and leg cast.
QAI QAI'S FAME
Those who follow Serena or Alexis' social media account know the doll already. She became famous after appearing in a series of clips shared by the couple on their stories.
One of the aspects that has captured more attention about Olympia's relationship with her daughter is how neglecting she could be, dropping her on the floor after hugging her and even leaving her unattended for more than a while.
So far, Qai Qai has more than 31,000 followers on Instagram and 15 posts showing her laying on the floor clearly neglected.
SERENA'S BIRTHDAY
Alexis recently posted a photo on Instagram showing himself wearing dark pants and a dark grey shirt, while Serena opted for a loose, floral dress. It was his way to wish his beloved wife a happy birthday, who turned 37 on September 26.
He didn't write "happy birthday," though, given the fact that Serena is a Jehovah's Witness, which means that it is not a tradition for her to do so.
Please fill in your e-mail so we can share with you our top stories!