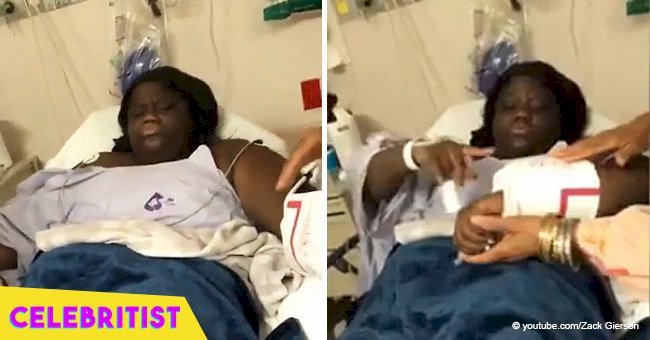 Hilarious moment when black girl wakes up after surgery and thinks she is white goes viral
A 16-year-old African-American girl who wakes up from surgery is cracking up the internet with her reaction when thinks she's no longer black.
Faith Martin had just undergone surgery and was clearly still high on her medication when she was caught on video waking to a hilarious realization - she thought she'd become white.
In the clip that's immediately gone viral thanks to her brother who shot the video and could be heard cracking up in the background, Faith appears to be in a daze as she tells her mother "I want to be black."
She begins to compare her skin to her relatives then starts dancing while still lying on her hospital bed. Her brother is amused and can't help but chuckle while filming her.
Faith then looks at her mother, lovingly holds her face and tells her,
"'We're not the same color anymore."
The room suddenly breaks into laughter watching the teen in her bizarre, groggy state. They tell her to look at her mother's hand to compare with hers but she stubbornly insists they're not the same by pursing her lips and shaking her head despite her mother telling her, "We the same color."
Her brother described the hilarious incident in his caption.
"My sister got her surgery and she woke up higher than the Himalayas. I guess the medication had her still intoxicated so she started hallucinating claiming her skin to be white instead of black."
It would be safe to assume Faith would later realize her color never changed once her system is clear of medication. This was also the case with an Atlanta teen who woke up after a coma speaking fluent Spanish instead of his native English. 16-year-old sophomore Reuben Nsemoh surprised his parents when he started speaking like a Spanish native and lost his ability to speak English after suffering from a concussion that caused him to go into a coma. According to CNN, Reuben acquired what is known as a foreign accent syndrome which is a rare condition brought about by brain injuries affecting a person's speech patterns.
A few dozen cases of foreign accent syndrome have been reported through the years after its first case recorded in 1941. Three years ago, a Navy vet woke up in a Southern California hotel with no memory of his life and speaking only Swedish. In Australia, a bus driver came out of a serious crash with a French accent. In 2016, a Texas woman started speaking with a British accent after having surgery on her jaw.
Experts say these cases are an impairment of the motor control and can be quite complicated since speech involves a coordination of a lot of brain centers to control a lot of moving parts. If one or more of these parts are damaged, timing, melody, and tension of speech may be affected.
Please fill in your e-mail so we can share with you our top stories!