Meet the youngest female bodybuilder aged only 5
Three months after learning to walk, Prisais Townsend also learned to exercise. She was only ten months old. 
Now five, the young prodigy can outlift the average person on the street. She works out regularly with her father in the gym. 
Her father is former NFL star James Townsend, and he couldn't prouder of his daughter. 
Follow us on Twitter for more @amomama_usa.
According to Shared, via an interview with Barcroft TV, the co-owner of Automo Crossfit in Moorpark, California said: 
"Her first workout when she was 10 months and she picked up two and a half pound dumbbell and started doing snatches - [I] never showed her [how]!" 
Now able to deadlift 65 lbs, the young girl has acquired a large social media following.  James described it: 
"People's reactions to Prisais' videos online are like: 'Wow, oh my god, she's inspiring! Look at her, what am I doing with my life?" 
He explained: 
"It inspires people to be active with their kids. This country is riddled with childhood obesity, you know." 
James went on to say that "she is empowering other women because other people, other young girls, other women see the fight and see the determination in her." 
One client of James, Maddy Espinoza, spoke about Prisais' positive influence: 
"Her being five-year-old and be able to do what she does, it's impressive and makes you push more because she can do what I can do too." 
A typical workout for young Prisais involves beam sandbars, push-ups, handstand push-ups, pull-ups, burps, box jumps, and air squats. 
Additionally, she carries out barbell back squats, deadlifts, full cleans, at least 20 straight pull-ups and a 50 pound back squat. 
Prisais works out up to 10 times each week, but her father ensures that she does not go beyond her limits. 
He also has to put in the time for her CrossFit with gymnastics, schoolwork, and of course, playtime. 
James is also very mindful of the experience his daughter goes through while exercising: 
"Anytime she comes into the gym, I let her treat it like a playground. This needs to be fun for her. I would be devastated if she ever felt like she was doing it for any reason other than her love of gymnastics. I'm her dad first and her fan second." 
Nonetheless, he has high hopes for her future. 
"She's on Level Two right now, at the present gymnastics gym, and she is the youngest out of eight to seven-year-olds and she is the strongest."
James is sure she will end up "making it into the Olympics around [15-16]," but only "if she wants to do it, [he knows] she could."
Regarding the expected criticism of his daughter's practice, James said that "it comes down to doing it right, adding the weights on that's appropriate for the kid's size, proper programming, and strict supervision." 
Despite the warning that it will "stunt [her] growth," James thinks it will instead lead to "better long-term athletic development."
And if Prisais so chooses to move on from her athleticism to something else, James is fully on board. "I want to support anything that she wants to do," he says. 
The record for the world's youngest bodybuilder was actually set by Giuliano Straw last March 2017.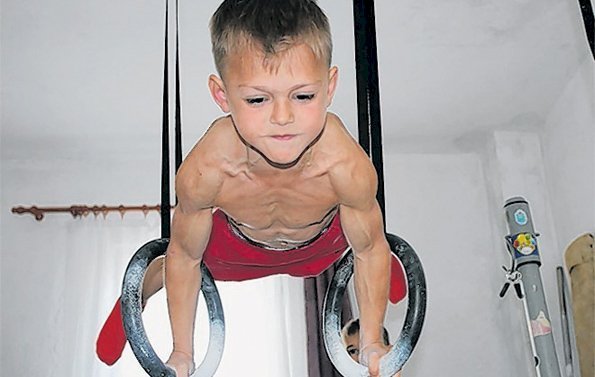 In addition to normal kids' activities like watching cartoons and drawing, Giulian is able to do incredible feats like walking on his hands with a heavy ball between his legs. 
He holds the Guinness records for the task which he completed over a distance of 10 meters at the fastest time.  
On the other end of the spectrum, older bodybuilders are making a name for themselves on social media, too. 
For instance, back in August 2018, A 72-year-old bodybuilder named Josefina Monasterio challenged actor Will Smith to a push-up contest. 
Will's wife, Jada Pinkett Smith, shared the video of Monasterio calling out her husband. 
Monasterio was confident that, in her top shape, she would be able to do more push-ups than Will.
The star is yet to respond to the challenge.