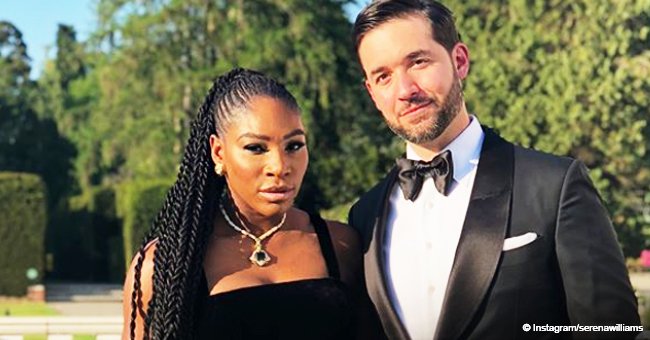 Serena Williams' curly-haired daughter steals hearts in luxurious car in new pic
Alexis Olympia is living her best life in a recent pic shared to her Instagram account. The 1-year-old girl was in the driver seat of a luxurious car, days before her mother released a new ad campaign for Breast Cancer Awareness month.
Serena Williams' daughter has been melting hearts all over social media since her birth a year ago. Fans are often divided between praising the little girl for her cuteness and expressing their jealousy for not having Olympia's amazing parents.
Williams and her husband, Reddit CEO Alexis Ohanian, have made sure to spoil their first daughter to keep that sweet smile of hers in place. And in a recent pic shared to the girl's Instagram account, Olympia is aboard one of her parents' cars, ready to take over the driver's seat.
But fear not, as the car was turned off and parked in a garage.
Wearing a white t-shirt, Olympia reclined half of her body over the window of the car, looking out to the side as she probably searched for her dad or her mom. Olympia's curly hair and innocent expression made the perfect snap, and the hilarious caption had fans melting from the cuteness.
"Papa, you sure mama won't find out??" it said.
Fans took over the comment section immediately, with one writing "Olympia says it's all clear and safe to pull out daddy, hurry! lil petrol head lol," and another added, "At least she looks back before putting it in reverse!!!" and a third one said "@olympiaohanian I love how mommy has your own page for you to talk before you can talk. Lol. Too cute. #babythoughts."
OLYMPIA AND SERENA'S BOND
And even though, as the fan said, Olympia can't talk yet, the girl can for sure communicate with her mother to perfection and feel when something's not right.
According to Williams, it was baby Olympia who calmed her down after a humiliating loss at the U.S Open a few weeks ago. Speaking on the "No Filter" podcast clip posted by Mamamia, the tennis star revealed what Olympia did to console her, even if she wasn't fully aware of it.
"I got in the car, and Olympia was in the car," she told host Mia Freedman. "It was so weird. She started giving me kisses; she never gives me kisses. She doesn't even know to give kisses ... and she just grabbed me."
SERENA'S OUT OF HER COMFORT ZONE
It's been a few rough couples of weeks for Serena, but like the grand champion she is, she always finds something worth fighting for, and this time around, she has become a huge advocate for breast cancer awareness.
In a recent campaign organized by "Berlei" for "Breast Cancer Network Australia" (BCNA), Williams went topless to perform a cover of Divinyls global hit "I Touch Myself." The campaign is trying to encourage women to touch themselves and prevent breast cancer on time.
"Yes, this put me out of my comfort zone, but I wanted to do it because it's an issue that affects all women of all colors, all around the world," she wrote on Instagram. "Early detection is key - it saves so many lives. I just hope this helps to remind women of that."
According to the National Breast Cancer Foundation, breast cancer is the most common form of cancer among women and the second leading cause of cancer deaths among the group. Statically, one in eight women will be diagnosed with breast cancer, which is why prevention and early detection is so important.
Please fill in your e-mail so we can share with you our top stories!