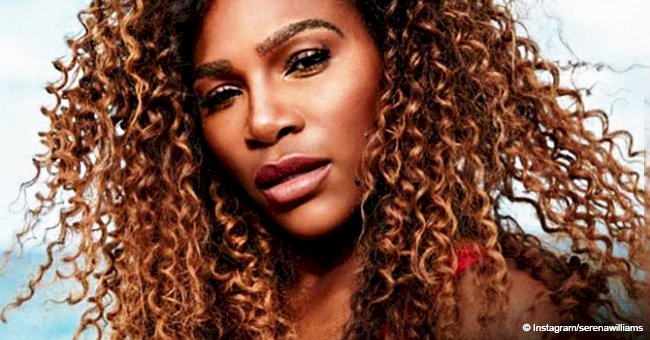 Serena Williams goes topless & sings 'I Touch Myself' to raise breast cancer awareness in video
Serena Williams has starred in a lot of ads, but this time, the tennis star is stepping out of her comfort zone for the sake of every woman.
In honor of Breast Cancer Awareness Month, Williams went topless to perform a cover of Divinyls global hit "I Touch Myself." The mother-of-one said she did it "to remind women to self-check regularly."
In a video posted to her Instagram, Williams uses her hands to conceal her bare cleavage as she sings the soulful song.
"Yes, this put me out of my comfort zone," Williams wrote, along with a reminder for women:
"I wanted to do it because it's an issue that affects all women of all colors, all around the world. Early detection is key - it saves so many lives. I just hope this helps to remind women of that."
Williams also revealed that the video is a tribute to Divinyls' Australian singer, Chrissy Amphlett, who died in 2013, following a prolonged battle with breast cancer.
"The music video is part of the I Touch Myself Project which was created in honor of celebrated diva, Chrissy Amphlett, who passed away from breast cancer, and who gave us her hit song to remind women to put their health first,"
She said.
The "I Touch Myself" project is supported by lingerie brand "Berlei" for "Breast Cancer Network Australia" (BCNA), as explained in the caption.
Berlei is also reportedly launching a new snakeskin print, rock-star inspired bra called "The Chrissy." 100% of profits from the sale of the bra will go to BCNA.
Uploaded only one day ago, Williams' video already has over one million views with thousands of comments.
"Exams are so so important. Thank you for putting yourself out of your comfort zone—you are a goddess!" said one fan.
Another chimed in:
"Brilliantly done. THANK YOU!!! From a person who appreciates you from a different point of view a Breast Cancer Survivor. Your strength is inspiring."
If anyone knows the importance of women's health, it's Williams. The 37-year-old athlete almost lost her life from childbirth complications after welcoming daughter Olympia in September last year.
Meanwhile, The Independent reiterates that women check their breasts each month, noting that lumps are not the only indication of breast cancer.
A change in breast size or shape, a rash or skin sores, nipple discharge, skin indentation, constant pain or a difference in skin texture, swelling around the armpit or collarbone, and a growing vein or inverted nipple, are similar indicators.
Should they notice any of these symptoms, women are advised to notify their doctors immediately.
Please fill in your e-mail so we can share with you our top stories!