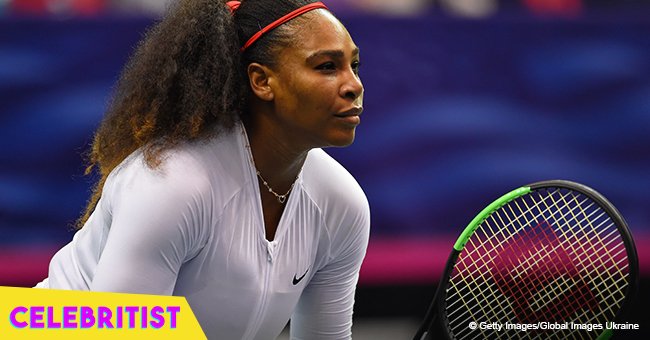 Serena Williams reveals continued postpartum struggles in emotional post after tennis loss
After a series of losses following her post-maternity return to the tennis court, Serena revealed she was in a "funk" in her latest post. The tennis superstar bared her emotions in a heartfelt post disclosing her postpartum struggles balancing her responsibilities as a mother and an athlete.
It's been a tough couple of weeks for Serena Williams whose latest social media outing comes in the heels of her withdrawal from the upcoming Rogers Cup in Canada due to personal reasons. She recently also experienced her worst defeat of her career when she lost to Johanna Konta at the Silicon Valley classic event with a score of 6-0, 6-1. The tennis superstar also failed to bag her 8th Wimbledon title after losing in the finals to Angelique Kerber in July.
Serena realizes she's facing a tough time in her life due to postpartum emotions. She revealed this in the caption accompanying a photo she shared where she's looking out into the sea as the sun begins to set.
"Last week was not easy for me. Not only was I accepting some tough personal stuff, but I just was in a funk. Mostly, I felt like I was not a good mom."
"I read several articles that said postpartum emotions can last up to 3 years if not dealt with. I like communication best. Talking things through with my mom, my sisters, my friends let me know that my feelings are totally normal. It's totally normal to feel like I'm not doing enough for my baby."
Serena also mentions how she regrets not being with her daughter every day due to the demands of her sport and shares other moms' difficulty in balancing the family and work.
"We have all been there. I work a lot, I train, and I'm trying to be the best athlete I can be.
"However, that means although I have been with her every day of her life, I'm not around as much as I would like to be."
"Most of you moms deal with the same thing. Whether stay-at-home or working, finding that balance with kids is a true art. You are the true heroes."
Serena ended her message with a positive note encouraging moms like her to look forward to tomorrow.
"I'm here to say: if you are having a rough day or week--it's ok--I am, too!!! There's always tomm!"
Serena gave birth to her daughter Olympia in August 2017, and even then, she already struggled with complications from her delivery. After undergoing an emergency C-section, she was diagnosed with pulmonary embolism. Blood clots developed in her lungs that almost caused her to die. She returned to the operating room immediately after and successfully recovered with the help of a team of medical experts.
Having survived that ordeal, Serena became even more attached to her first child with husband, Alexis Ohanian. She devoted the next months to be with her 24/7 despite still recovering from her operation. However, since her return to the court after her hiatus, she's been spending less and less time with her daughter. She cried when she missed Olympia's first steps and she also became emotional when she was forced to wean her daughter from breastfeeding.
Now it seems Serena is taking the time to be with her daughter and herself again as she sorts through her postpartum emotions.
Please fill in your e-mail so we can share with you our top stories!