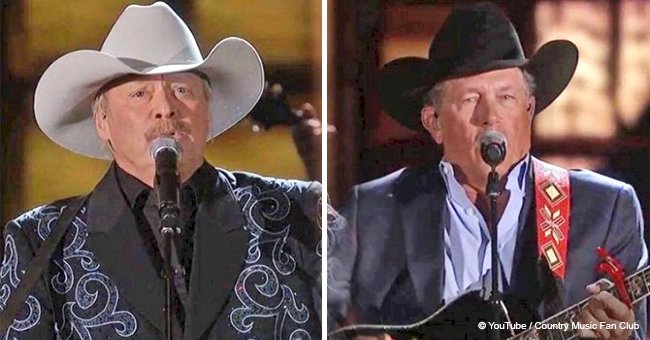 Alan Jackson and George Strait perform a legendary song together and their duet is charming
When Alan Jackson and George Strait collaborated at the CMA Awards' 50th Anniversary show, the result was magical.
The CMA awards celebrated their 50th anniversary at the Bridgestone Arena in Nashville, the eleventh ceremony held in this arena. They launched an extensive promotional campaign, with the aim of the ceremony being to include 'heritage artists', in honor of the history of country music.
The performer lineup was star-studded with some of the biggest names in country music ready to pay their tribute to the 50th CMA Awards, and their love for the genre.
The anticipated performance of duets between Alan Jackson and George Strait did not disappoint.
They started the show off with 'Remember When', originally written and performed by Alan Jackson, released in 2003. During the performance images of country legends who have passed displayed behind him including Johnny Cash, June Carter Cash, and George Jones.
George Strait came on stage and began with his 2008 song 'Troubadour', after a few lines they sang together in a duet for an epic performance. Other performers did not disappoint, the medley from Garth Brooks and Trisha Yearwood performing famous duets was memorable. An inspiring evening as they celebrated their love for country music.
When celebrations and collaborations of iconic country singers meet the result often amounts to goosebumps as with the collaboration between Shania Twain and Willie Nelson.
In celebration of Willie Nelson's 70th birthday celebration, they took to the stage to perform a single from Nelson's 1975 album, 'Red Headed Stranger'. An amazing performance of 'Blue Eyes Crying In The Rain' moved the audience as celebrations continued.
Source: YouTube/dynocounter
Earlier this year famous country singer Charlie Robison announced his retirement from his country singing career. It was not out of choice, but due to surgery he had on January 3 on his throat, leaving his vocal chords permanently damaged.
He made the announcement by posting it directly to his fans on his Facebook page. He received over 3,000 comments expressing their dismay and best wishes for his retirement.
Please fill in your e-mail so we can share with you our top stories!