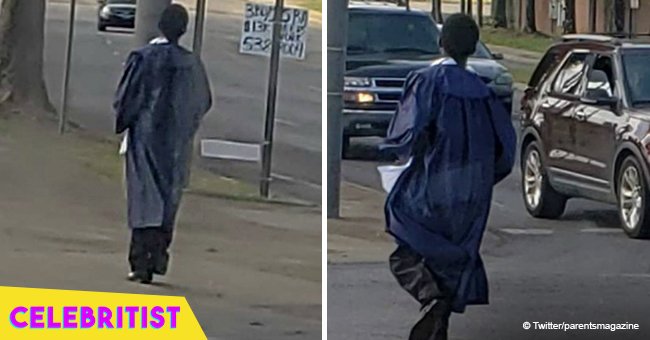 Alabama student gets car after years of waking up at 4.30 am to take bus to high school
After his family moved across town before his senior year, Corey Patrick decided that he would make the 90-minute journey to school every day to graduate with his friends. After a pic from his graduation day went viral, the young man was repaid for his determination with a car.
Corey Patrick became a viral sensation earlier this year after a bus driver took a photo of him running on his graduation robes to catch the bus. The 19-year-old student had been waking up every day at 4:30 am to reach Tarrant High School, in Birmingham, Alabama, on time.
He did the 90-minute drive every day, as he knew if he wanted to graduate with his friends, he had to make some sacrifices. His family didn't have a car, so the bus was the safest option for him. Corey never complained through his senior year, and not only was he able to graduate on time, but he also caught the hearts of people all over the nation.
"'I had to do what was necessary for me to walk this year," he told WBRC.
Dee Bee, the bus driver that took the viral pic of Patrick, captured the moment as she wanted to honor the boy's tenacity, writing in her caption:
"You tell me this ain't Determination he got on my bus to go to his Graduation no one was with him. I pick him in Elyton projects drop him at the at the [complex[ in 5 points. Sometimes it's all in what you want out of life. He didn't have on the best, but he was the best in my eyes I was so proud of this black young man."
The pic has been shared over 42k times on Facebook, and it caught the attention of comedian and radio host Rickey Smiley, who asked fans to help him localize the boy.
When he finally got in touch with Corey, the boy was invited to his radio show along with his family, where Smiley gifted them a new SUV and also promised Corey to help him get a driver license and put him on driving classes.
"Little buddy wanted doing this, trying to get no hype on the internet or trying to get no hype on the radio," Smiley said in a video of the gesture. "He did it because he wanted his high school diploma."
Felicia White, Corey's mother, told WBRC of her son:
"He's a great young man. He's very quiet, reserved, humble and he gets a little hardheaded sometimes, but he's a very obedient child, and I'm proud of Corey."
And added:
"Corey was getting up at 4:30 in the morning and had to be at the bus stop at 5:41 in the morning for the last year. Even when he would get out of school, he couldn't get from that side of town until 5:19 when the bus runs back over there. So he doesn't make it back this way until about 6:30 or 7 o'clock."
Patrick received a full scholarship to Jacksonville University, according to WIAT-TV. The young man told Smiley he plans to study computer science.
ANOTHER ACT OF KINDNESS FROM A CELEBRITY
Meanwhile, Beyoncé recently surprised a 17-year-old girl from Arizona with a full college scholarship.
Mikayla Lowry was attending the "On The Run II" tour in her city and never imagined she would get the surprise of her life. She's a senior at Trevon Browne High School and part of the Boys & Girls Club of Metro Phoenix. It was DJ Khaled, the concert's opening act, who announced Mikayla as the recipient of the $100,000 scholarship from the Shawn Carter Foundation and BeyGood Initiative.
Khaled said Mikayla was deserving of the award because she "has been part of the Boys & Girls Club, a true role model with a 3.7 GPA, a future marine biologist."
The girl is the seventh student to be given a scholarship by Beyonce and Jay-Z during their concert tour.
Please fill in your e-mail so we can share with you our top stories!