Brave youngster performs unbelievable hops while nearly 900 feet high
A young Russian daredevil executes hairraising feats atop a 900-foot building in Dubai.
A young Russian man has millions holding their breath as he does dangerous stunts on a narrow ledge at the top of a 900-foot building in Dubai, in the Arab Emirates.
Nikita Deft, 22, skipped on the edge of an 885-foot tower in Dubai, did back-flips and hopped, placing his life on the line again and again.
He filmed his daring acts and had them posted on YouTube/Caters Clips on October 1, 2018.
"I have a lot of boxing experience and skipping is one of the basic elements of boxing. I knew the cost of this stunt and I was very aware of what I was doing.
RISKING HIS LIFE FOR THE THRILL OF IT
Nikita Deft, Daily Mail, October 2, 2018.
The One Tower building in Dubai has been attracting a number of young people intent on testing their metal on the 228-meter high tower.
In 2017 free climber James Kingston was arrested for scaling the building, and the skyscape of Dubai seems to be becoming the Everest of urban mountaineers.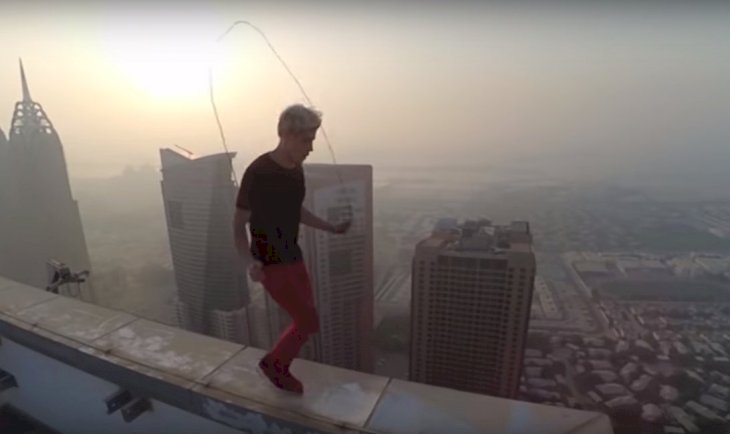 PROFESSIONAL PHOTOGRAPHER CAPTURED THE IMAGES OF HIS DARING
Deft, who is a professional photographer as well as an athlete - he is an aspiring boxer - set up the cameras and captured breathtaking images of his exploits.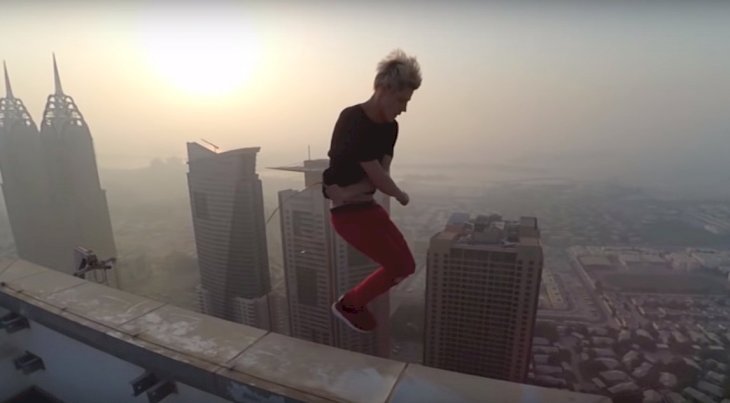 AUTHORITIES FORBID DAREDEVIL STUNTS
Famous for its futuristic cityscape, Dubai is home to some of the most daring high-rise structures in the world and is seeing more and more young people risk their lives to prove their courage. The Dubai Police have warned that daredevils will be prosecuted for endangering their lives and the lives of others.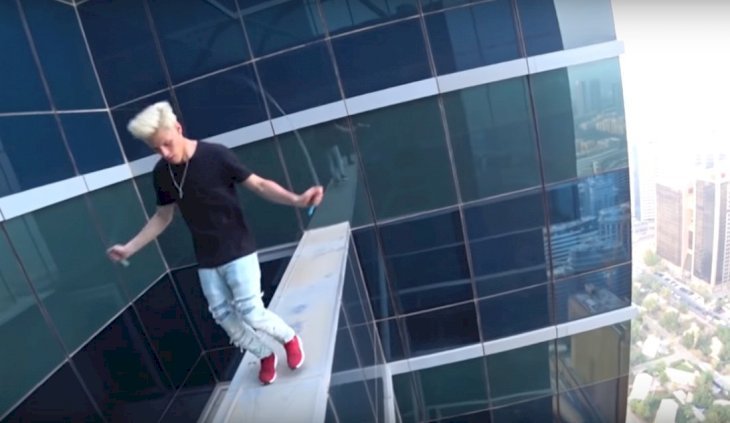 ANOTHER RUSSIAN DAREDEVIL
Daredevilry has its place -  if only Nikita Deft focused his talents as his fellow Russian Olga Kobut did back in 1972 during the Olympic Summer Games in Munich.
Korbut, then 17 was a brilliant gymnast know as the "Sparrow from Minsk" for her fragile figure and seeming ability to float in the air as she performed her routines.
The Olympic Summer Games all-around of gymnastics competition saw Korbut lose the gold after a serious mistake, but only 20 hours later she was climbing the podium to receive the gold.
Korbut went on to win three gold medals for the balance beam, floor exercise, and team competitions. She created a backflip from a stand on the high bar that was named the Korbut Flip, and for being considered too dangerous, and liable to cause injuries to the athlete performing it.
In a related story, a 12-year-old Russian girl took home the first place trophy in the junior category of the Czech Freestyle World Cup for roller skating.