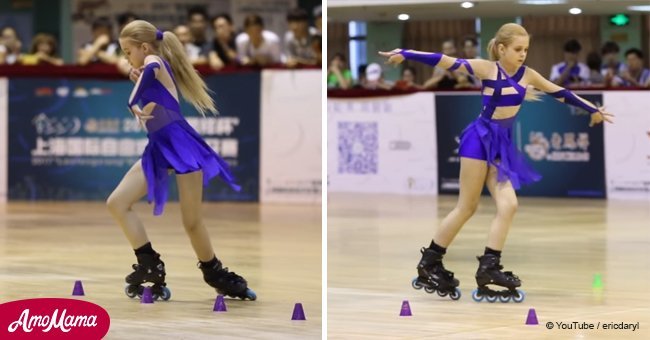 12-year-old Russian girl wows crowd with amazing roller skating performance
Sofia Bogdanova can dance circles around anything and amazingly, she can do it in roller skates.
The 12-year-old Russian girl's journey was highlighted when she took home the first place trophy in the junior category of the Czech Freestyle World Cup (CFWC) in 2016.
For that routine, Bogdanova chose to perform to Evanescence's Bring Me To Life.
The CFWC's Facebook page explained that that year marked the first year for the competition as an official part of the World Slalom Series.
In an interview on the Rollersport website, Bogdanova shared, "In August 2012 I was in the Czech Republic on a sports trip with other kids from inline skating club and I was the only one who did figure skating, all others were slalomer. I liked greatly what they did on cones! When I came back I decided to learn slalom."
She explained how she spends five times a week to practice and she also specified how essential music is during her practices.
Bogdanova, who is now known as a freestyle slalom skater, began roller skating by the age of seven.
Freestyle slalom skating, as seen on Bogdanova's performance, is a very technical sport where skaters are required to perform cutting-edge stunts and tricks, as well as dance around a straight line of miniature cones that had been spaced out equally.
The 12-year-old's performance was taken during the 2017 SSO Junior Women Classic Slalom held in Shanghai, Sofia.
Performing to the music of Lindsey Stirling's violin piece, Bogdanova executed flawless skating skills and good balance.
She looked graceful as she displayed amazing footwork.
In the end, she was given the title as the champion of the junior women's level of the competition.
Bogdanova's success was rooted in her passion and constant practice. She spends a lot of time working on making her every move perfect and at the same time, enjoying the moment. Read more stories like this on our Twitter account, visit @amomama_usa.
Please fill in your e-mail so we can share with you our top stories!