Viral video of 10-year-old boy getting a tattoo sparks outrage and leads to police investigation
After a concerned family friend posted a video of a 10-year-old boy getting a tattoo in the living room of his house, people from all over the country have expressed outrage and worry about the kid's welfare. Police in Ohio opened an investigation, but unfortunately, the law was not on their side.
Boy, 10, gets tattoo inked on his arm as his own mum films him https://t.co/veV0CU9Cro pic.twitter.com/VbIMDFMLjE

— The Mirror (@DailyMirror) September 27, 2018
Storm Harrington took to his Facebook to share a video of 10-year-old Skylar getting tattooed while sitting on a woman's lap at his living room. The action enraged Storm, who tagged the child's mom on the caption of the video saying:
"Nikki Dickinson Justice Oyer wth is this. How old is Skylar 9? He is not old enough to know what he wants or to make any kind of decision like this. You truly are a worthless parent for this.!!!"
'That's child abuse.' Outrage and charges after 10-year-old boy gets tattoo on videohttps://t.co/yox8MtAZVv pic.twitter.com/T18P3U8IRd

— Miami Herald (@MiamiHerald) September 29, 2018
The video quickly began to spread on social media with people demanding the child's mom to be arrested for child endangerment and more. The clip has earned over 1 million views and 14k shares. Most people have been slamming the mother for allowing her son to get tattooed being so young.
POLICE TAKES ACTION
While the mother was not pictured in the video, as she was the one recording, Skylar is seen trying not to wince at the pain while entertaining himself talking about his friends and school while a teenager works on an "S" on his right arm.
Bellefontaine police got calls from different states of people that had seen the video are were worried about the child's safety, so they visited the family's home to check on Skylar. However, the boy accepted he wanted the tattoo, and the mother, Nikki Dickinson, gave her consent to it.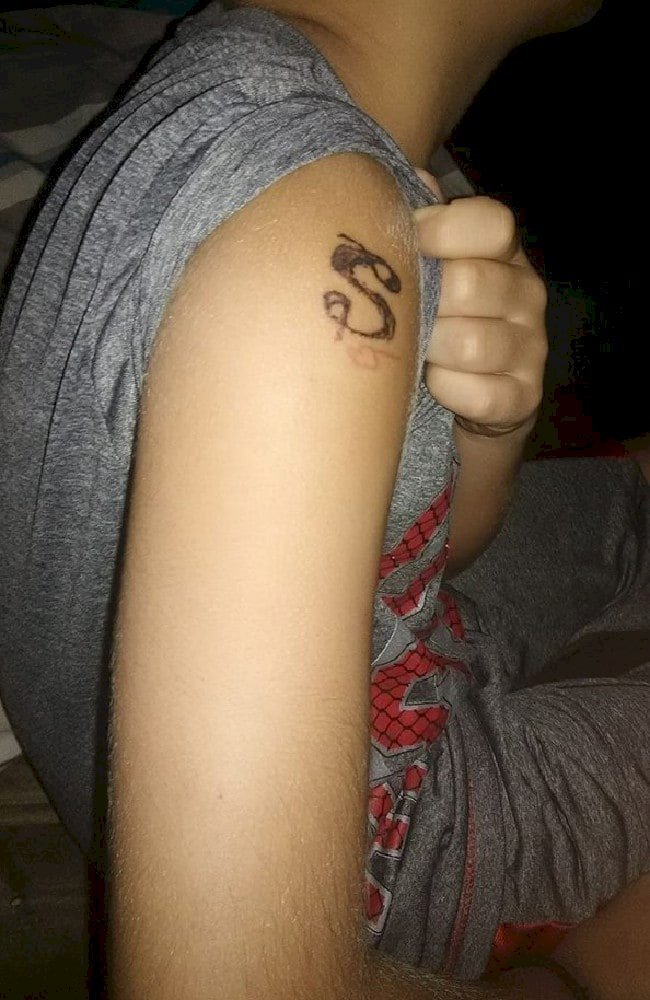 Unfortunately, according to the Ohio law, is illegal to tattoo a minor only if the parents don't give their consent. But there are some rules to be followed in the process, like being in a sanitary place, using gloves and having a certification.
The aspiring tattoo artist who did the work is a 16-year-old boy named Kyle Richardson, who was charged by the police with two misdemeanor counts. One for not sterilizing the equipment and the other count accuses him of violating safety and sanitation standards, as reported by Journal News.
Logan County Children's Services opened an investigation into the family, and it was reported on Monday that the mother had been charged with a single count of child endangering in connection to the case, according to court records.
Nikki Dickinson now has a warrant out for her arrest.
ANOTHER MOM IS SLAMMED ON SOCIAL MEDIA
In similar news, the mom of an adorable toddler was slammed on social media for feeding her unsuspecting child a small amount of wasabi, which is known for its extreme spiciness and burning sensation. 
A viral clip of the moment, recorded by the giggling mother, shows the little girl asking for "help" once she tastes the green sushi topping. While many people found the girl's reaction hilarious, other parents showed their concern for the mother's lack of empathy toward the girl.
However, according to the health-focused website Parenting Healthy Babies, wasabi might be good for children, as it provides anti-inflammatory benefits, detoxification, improved digestion, and other positive results when taken in small amounts by small children.